Als erster Boxer errang Ali drei Mal den Schwergewichtstitel. Sein Wirken geht aber weit über den Ring hinaus.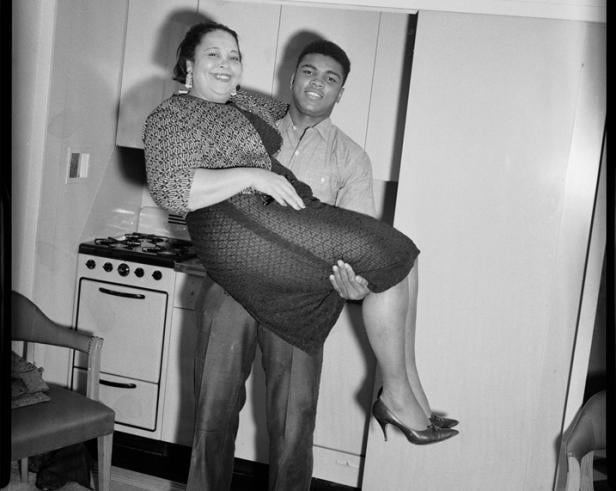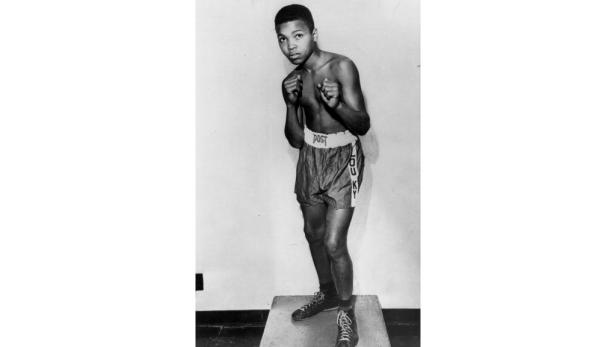 dapdFILE - In this 1954 file photo, boxer Cassius Clay is shown. Long before his dazzling footwork and punching prowess made him a three-time world heavyweight boxing champion known as Muhammad Ali, a young Cassius Clay honed his skills by sparring with n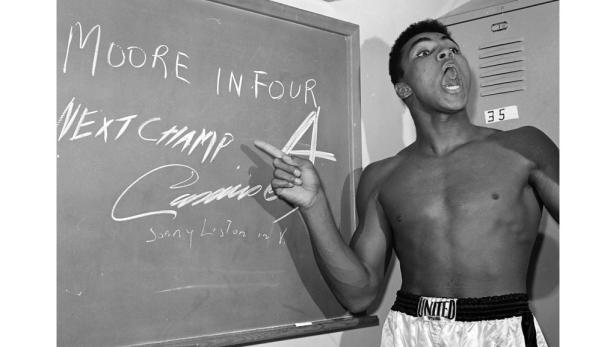 dapdFILE - In this Nov. 15, 1962, file photo, young heavyweight boxer Cassius Clay, who later changed his name to Muhammad Ali, points to a sign he wrote on a chalk board in his dressing room before his fight against Archie Moore in Los Angeles, predicti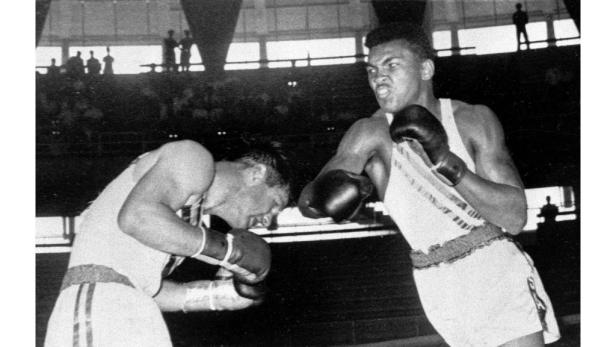 dapdFILE - In this Sept. 3, 1960, file photo, Cassius Clay, right, 18-year-old from Louisville, Ky., throws a right at Tony Madigan of Australia, during the light heavyweight boxing semifinals at the Summer Olympic Games in Rome, Italy. Cassius Clay later
AP** FILE ** World heavyweight boxing champion Muhammad Ali, right, is shown with black muslim leader Malcolm X outside the Trans-Lux Newsreel Theater in New York, after viewing the screening of a film about Alis title fight with Sonny Liston, in this Ma
AP*** FILE *** Heavyweight champion Muhammad Ali stands over fallen challenger Sonny Liston, shouting and gesturing shortly after dropping Liston with a short hard right to the jaw on May 25, 1965, in Lewiston, Maine. Ali, one of the worlds most recogniz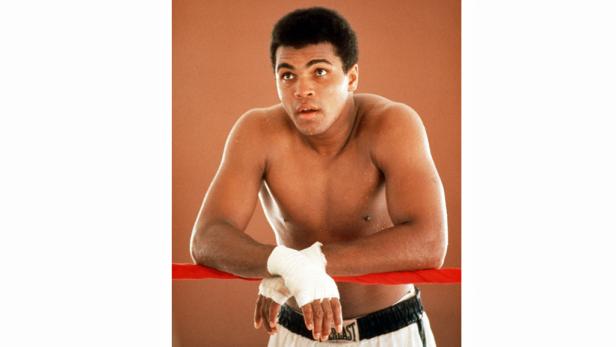 dpaARCHIV - Undatiertes Archivbild zeigt den US-amerikanischen Profiboxer Muhammad Ali. Der dreifache Schwergewichtsmeister wurde bereits mit 18 Jahren Olympiasieger im Halbschwergewicht und 1964 erstmals Profi-Weltmeister. Im selben Jahr trat er zum Isla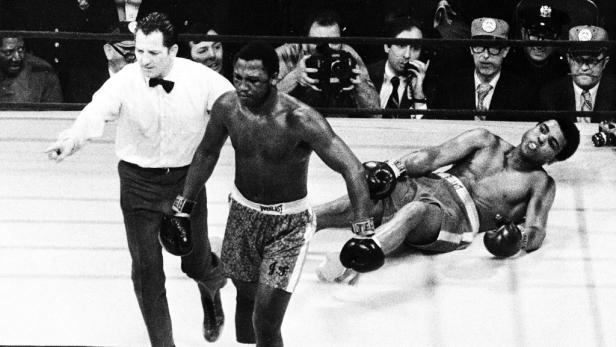 dapdFILE- This March 8, 1971, file photo, shows boxer Joe Frazier being directed to the ropes by referee Arthur Marcante after knocking down Muhammad Ali during the 15th round of the title bout at Madison Square Garden in New York. Former heavyweight cham
APFILE -- Challenger Muhammad Ali is directed to a neutral corner by referee Zack Clayton after knocking down George Foreman and ending their title fight in the eighth round, in Kinshasa, Zaire, in this Oct. 29, 1974 photo. (AP Photo/File)
AP**FILE** Spray flies from the head of challenger Joe Frazier, left, as heavyweight champion Muhammad Ali connects with a right in the ninth round of their title fight in Manila, Philippines, Oct. 1, 1975. Ali won the fight on a decision to retain the t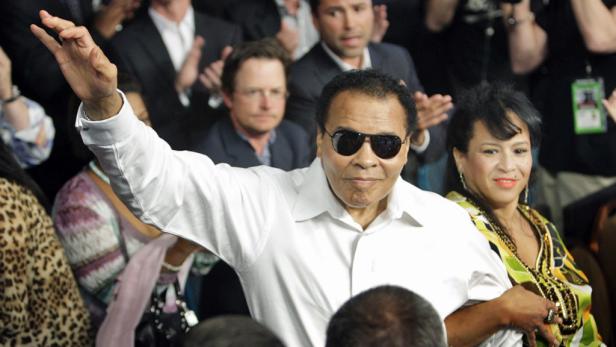 REUTERSBoxing legend Muhammad Ali stands with his wife Yolanda as he is introduced before the welterweight fight between Floyd Mayweather Jr. and Shane Mosley at the MGM Grand Garden Arena in Las Vegas, Nevada on May 1, 2010. REUTERS/Steve Marcus (UNITE
APFILE - In this June 3, 1976, file photo, Muhammad Ali, left, and Ken Norton stand in the infield at New Yorks Yankee Stadium to promote their title fight that was held in September of that year. Yuri Foreman, the junior middleweight champion, is schedul
AP** FILE ** Trevor Berbick, left, and Muhammad Ali seem to have an equal reach as they slug it out during a Friday night boxing match in this Dec. 12, 1981 file photo in Nassau, Bahamas. Berbick, who lost his heavyweight title to Mike Tyson and was th
AP** FILE ** Pope John Paul II looks on as Muhammad Ali, former heavyweight boxing champion, signs his autograph in Vatican City, in this June 6, 1982 file photo. (AP Photo)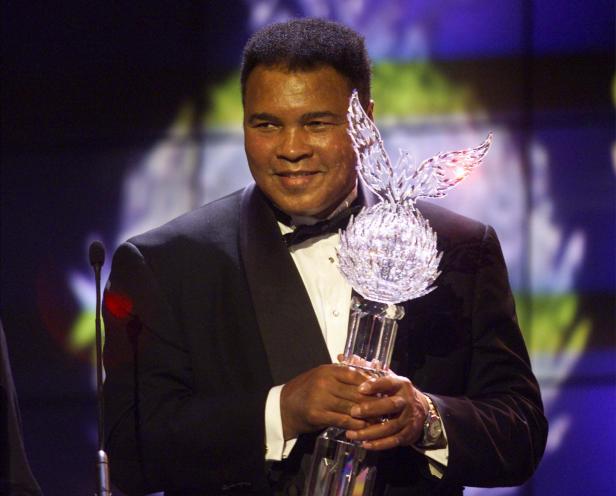 VIE43D:WORLD SPORTS AWARD:VIENNA,19NOV99 - U.S. sports legend Muhammad Ali holds the trophy in Viennas State Opera November 19. Ali won the World Sports Award of the Century in the category of martial arts. le/REUTER OESTERREICH/Photo by Leonhard Foeger R
APPresident Bush presents the Presidential Medal of Freedom, Wednesday, Nov. 9, 2005, to boxer Muhammad Ali in the East Room of the White House. (AP Photo/Evan Vucci)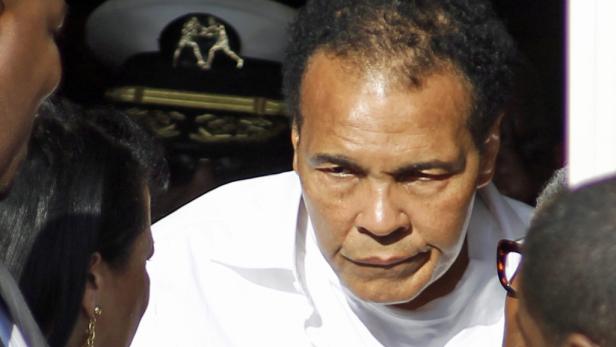 REUTERSBoxing great Muhammad Ali is assisted as he leaves the funeral of boxer Joe Frazier at the Enon Tabernacle Baptist church in Philadelphia, Pennsylvania, November 14, 2011 REUTERS/Tim Shaffer (UNITED STATES - Tags: SPORT BOXING OBITUARY)
Wir würden hier gerne eine Newsletter Anmeldung zeigen. Leider haben Sie uns hierfür keine Zustimmung gegeben. Wenn Sie diesen anzeigen wollen, stimmen sie bitte Piano Software Inc. zu.