Ein Überblick über die letzten 15 Finale im zweitgrößten Vereinsbewerb Europas.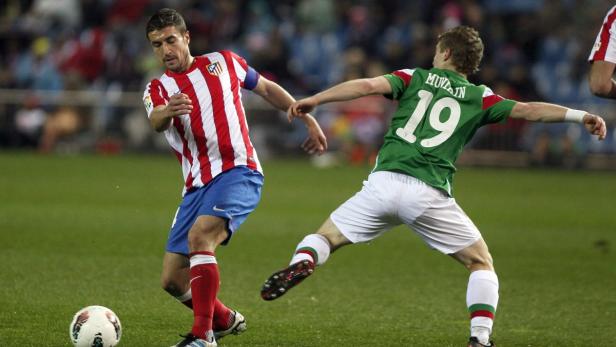 EPAepa03153961 Atletico Madrids midfielder Gabriel Fernandez (L) controls the ball in front of Athletic Club Bilbaos Iker Muniain during their Spanish Ligas Primera Division match at the Vicente Calderon stadium in Madrid, central Spain, 21 March 2012. E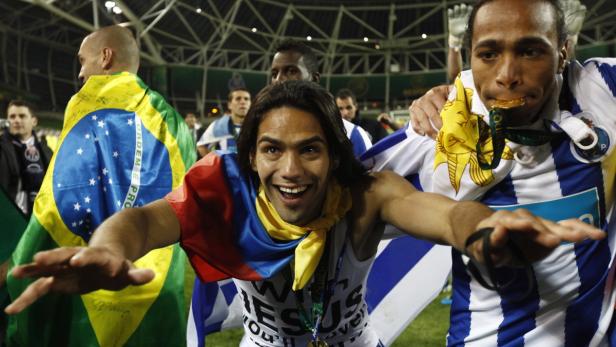 EPAepa02740537 Porto players Falcao (L) and Alvaro Pereira (R) celebrate after winning the UEFA Europa League final between Porto and Braga at the Dublin Arena, Dublin, Ireland 18 May 2011. EPA/FELIPE TRUEBA
APAtletico Madrid soccer team, react with the crowd, as they travel on an open-topped bus to celebrate their Europa League victory in Madrid Thursday May 13, 2010. Atletico de Madrid beat FC Fulham (2-1) in the soccer Europa League final in Hamburg, Germa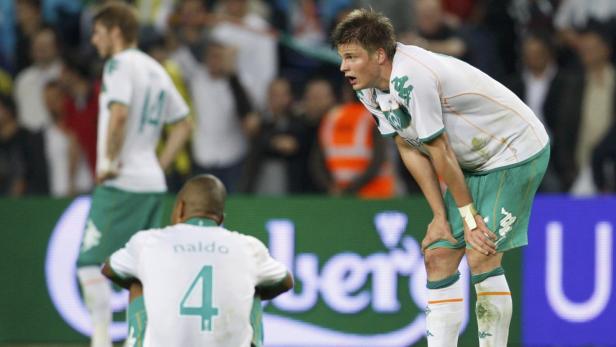 REUTERSNaldo and Sebastian Proedl (R) of Werder Bremen react after losing to Shakhtar Donetsk in their UEFA Cup final soccer match at Sukru Saracoglu stadium in Istanbul May 20, 2009. REUTERS/Murad Sezer (TURKEY)
APPlayers of soccer club Zenit St.Petersburg display the UEFA Cup after their arrival in St.Petersburg, May 15, 2008. Zenit won 2-0 over Rangers of Scotland, in Manchester England Wednesday. (AP Photo/Dmitry Lovetsky)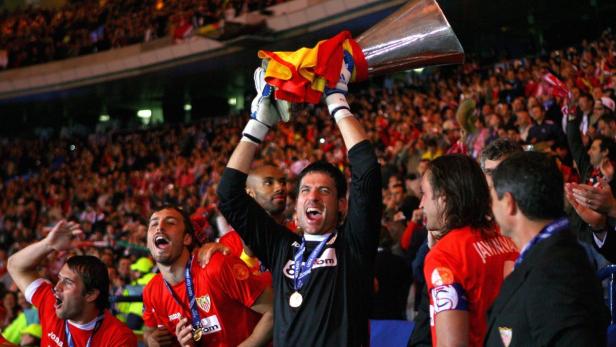 EPAepa01010989 Spanish goalkeeper Andres Palop (C) of Sevilla FC lifts the UEFA Cup trophy after the UEFA Cup final soccer match against RCD Espanyol Barcelona at Hampden Park stadium in Glasgow, Scotland, 16 May 2007. Sevilla won 3-1 after penalty shooto
APA Middlesbrough supporters reacts after the UEFA Cup final soccer match between FC Sevilla and Middlesbrough FC in Eindhoven, The Netherlands, Wednesday, May 10, 2006. Middlesbrough lost 0-4. (AP Photo/Bas Czerwinski)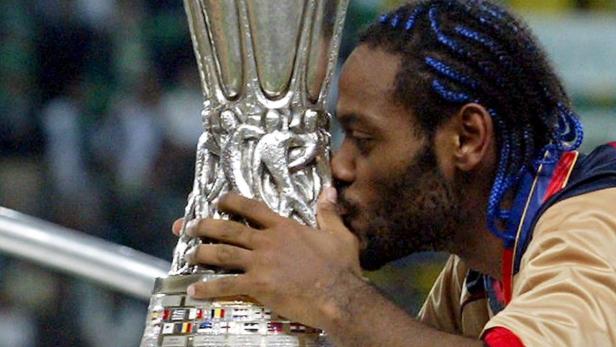 epa000437324 CSKA Moscow player Vagner Love kisses the trophy after the team defeated Sporting Lisbon in the UEFA Cup final on Wednesday 18 May 2005, at Jose de Alvalade stadium in Lisbon. CSKA won 3-1. EPA/PAULO CARRICO
APValencias Mista, left, strikes his sides second goal past Marseille goalkeeper Jeremy Gavanon during the UEFA Cup final between Marseille and Valencia at the Ullevi Stadium in Goteborg, Sweden Wednesday May 19, 2004. (AP Photo/Jon Super)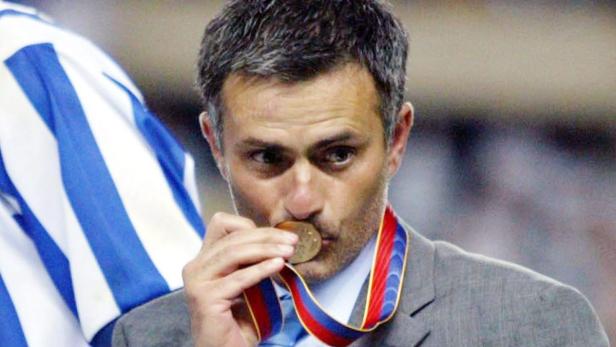 FC Porto Coach Jose Mourinho kisses his medal after Portuguese side Porto won the UEFA Cup for the first time in their history in Seville on Wednesday, 21 May 2003. Porto beat Celtic 3-2. EPA-PHOTO/LUSA/ANTONIO SIMOES
APFeyenoords double goal scorer Pierre Van Hooijdonk holds the UEFA Cup after his team defeated Borussia Dortmund 3-2 in their UEFA Cup Final at the De Kuip Stadium in Rotterdam, The Netherlands, Wednesday May 8, 2002. (AP Photo/Michael Sohn)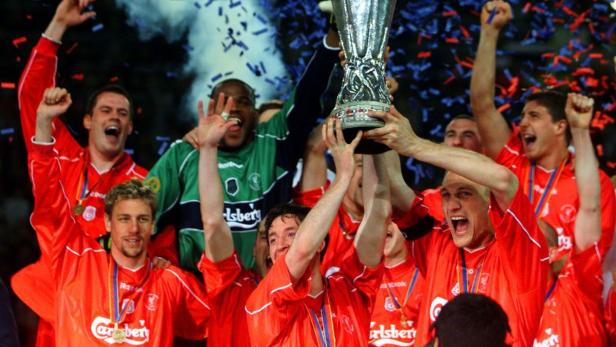 Liverpools Robbie Fowler (C left) and Sami Hyypia (C right) lift the UEFA Cup after winning the final against Deportivo Alaves at Dortmunds Westfalen stadium May 16, 2001.Liverpool won a thriller 5-4 after extra time. REUTERS/Kai Pfaffenbach
APFemale fans of Galatasaray Istanbul celebrate during the UEFA cup soccer final match between Galatasaray and Arsenal in the Parken stadium in Copenhagen Wednesday, May 17, 2000. Galatasaray won the match 4-1 in a penalty shootout.(AP Photo/Murad Sezer)
APParmas forward Marco Di Vaio, center, is congratulated by his teamates Dino Baggio, left and Ariel Arnaldo Ortega from Argentina after he scored during the first round, first leg, UEFA Cup soccer match Parma vs Kryvbas Kryvyi Rig at Parmas Tardini stadi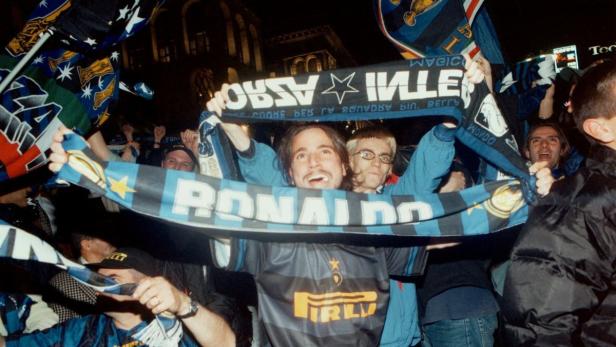 I39-19980506-MILAN, ITALY - Supporters of Italian Inter Milan soccer team jubilate here in Piazza del Duomo late May 06 after their team beat Lazio Rome in Paris at the Uefa Cup final with 3-0. EPA PHOTO ANSA/MONTINGELLI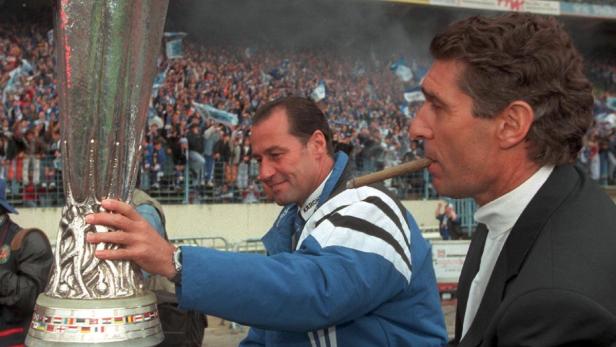 Coach of FC Schalke 04, Huub Stevens (C), holds the UEFA Cup while manger Rudi Assauer (R) is looking at during celebrations in Park stadium 22 May. Schalke 04 defeated Inter Milan 21 May in the UEFA Cup final by 4-2.
Wir würden hier gerne eine Newsletter Anmeldung zeigen. Leider haben Sie uns hierfür keine Zustimmung gegeben. Wenn Sie diesen anzeigen wollen, stimmen sie bitte Piano Software Inc. zu.