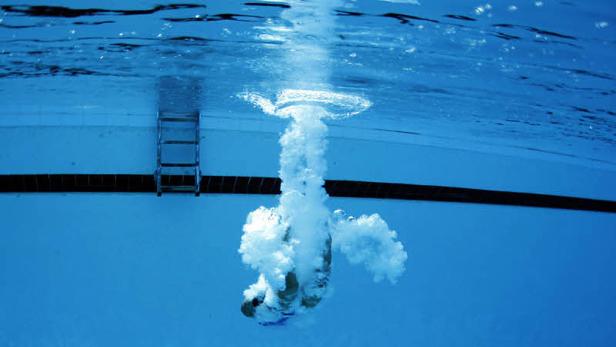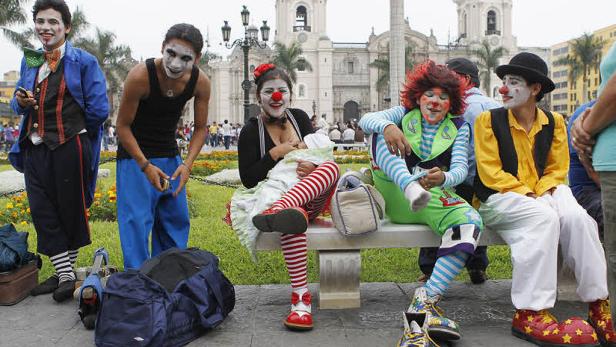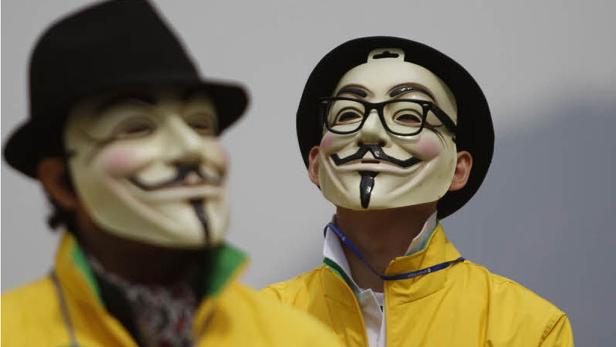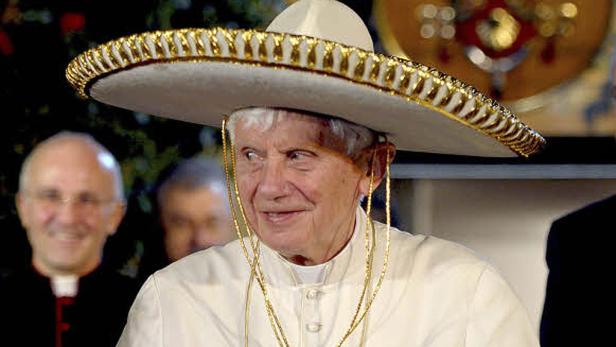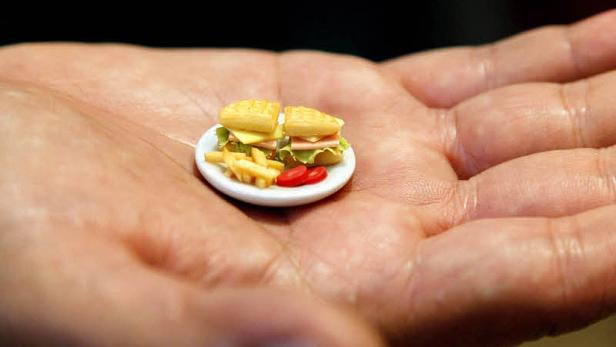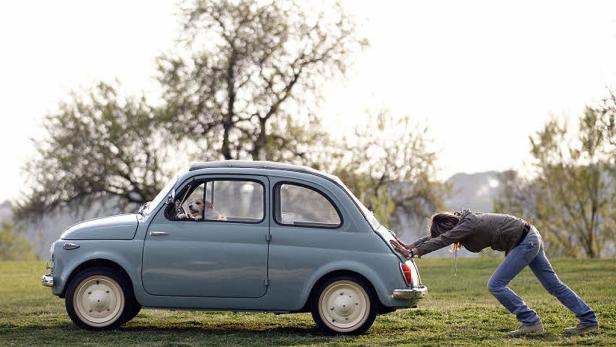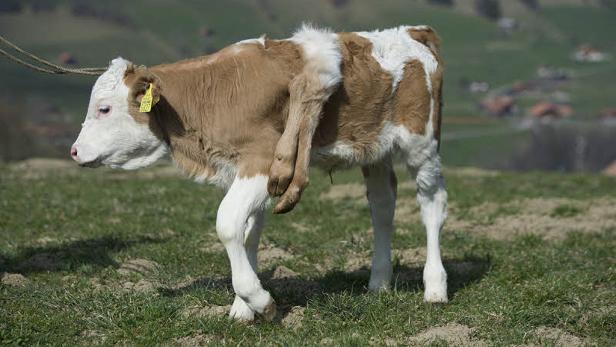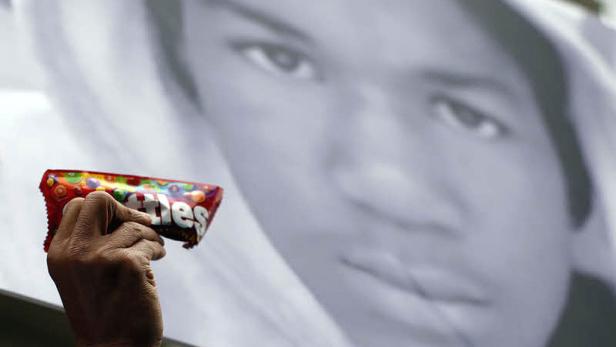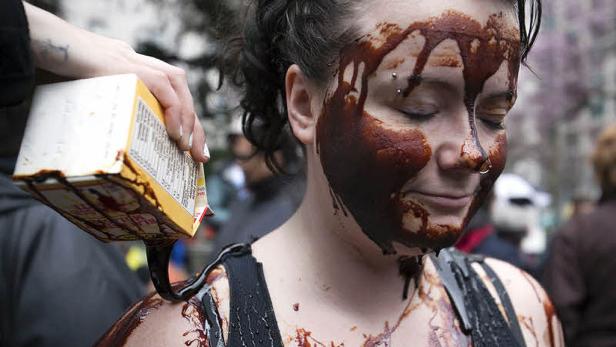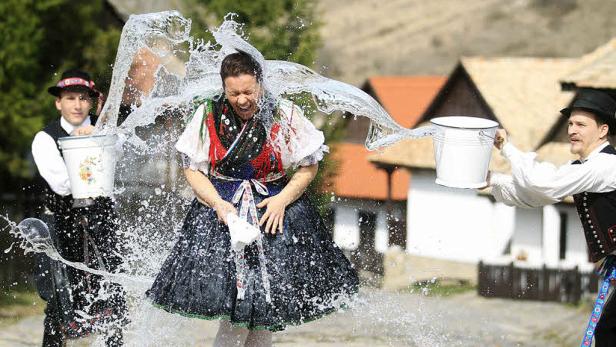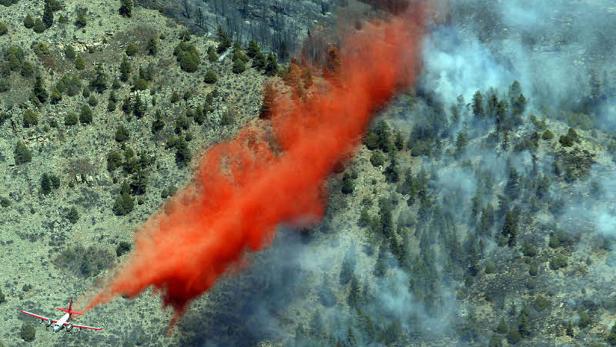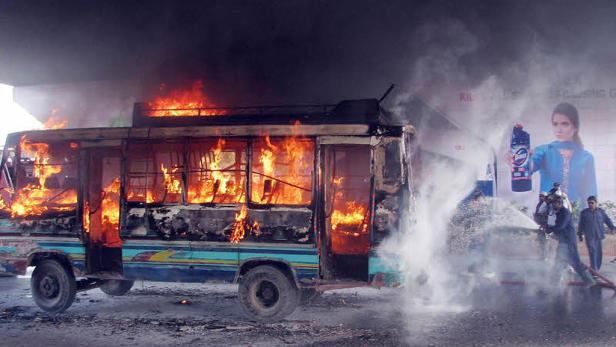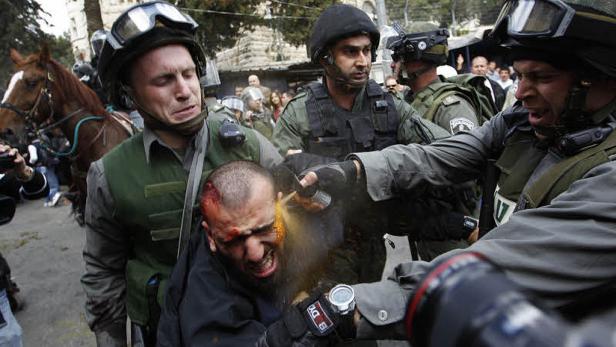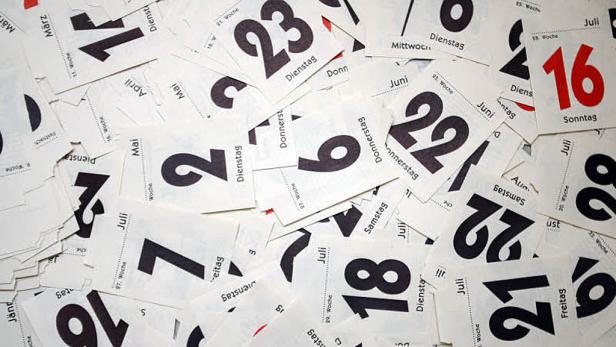 Durcheinandergewirbelte Kalenderblätter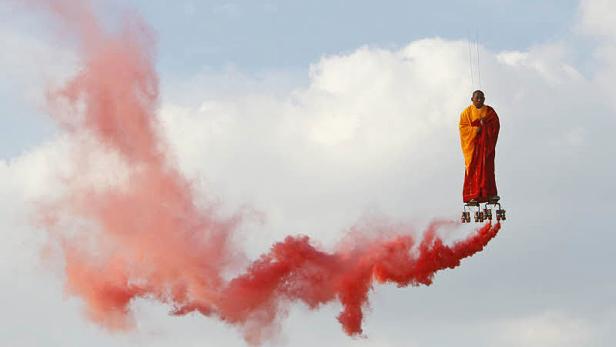 dapdSuspended by wires, Chinese artist Li Wei performs in the sky at La Villette in Paris Tuesday March 20, 2012. Li Wei born in 1970, Hubei, China is a contemporary artist from Beijing, China. His work often depicts him in apparently gravity-defying sit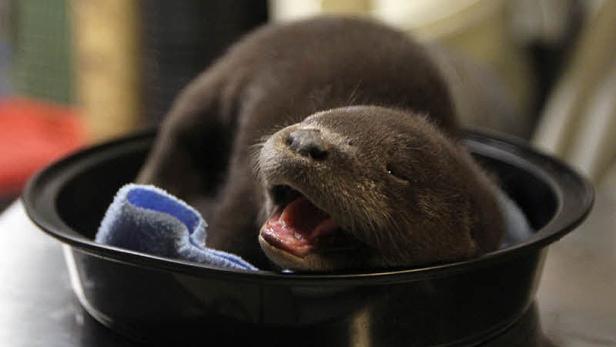 dapdEtu, a month-old baby otter, cries as hes about to be examined by Dr. Karen Emanuelson, director of veterinary services and research, in the otters night house at the Oakland Zoo on Thursday, March 22, 2012 in Oakland, Calif. Two males and a female ot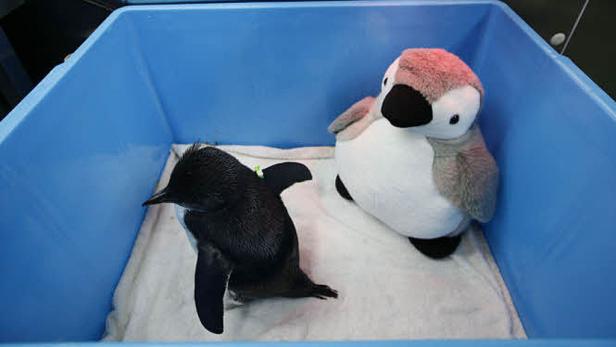 dapdIn this March 15, 2012 photo, a two-month-old baby Rockhopper penguin sits next to a penguin-shaped soft toy in the breeding center of Ocean Park, a tourist theme park in Hong Kong, Thursday, March 15, 2012. More than a dozen penguins were successfull
EPAepa03155918 Indian children dressed as various Hindu gods participate in the procession to celebrate Gudi Padwa, Maharashtrians New Year in Mumbai, India, 23 March 2012. Gudi Padwa is the Hindu festival that falls on the first day of Chaitra month and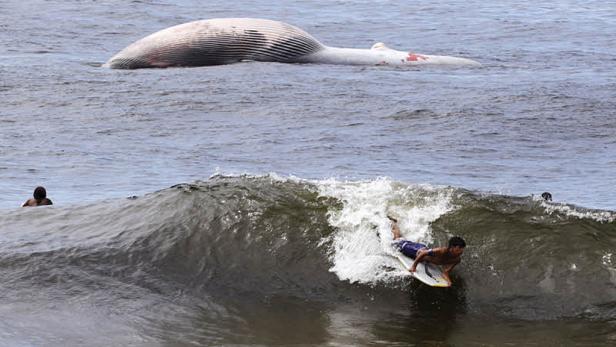 REUTERSA man surfs in front of a dead Brydes whale, as identified by the Aqualung Institute, at Sao Conrado beach in Rio de Janeiro March 20, 2012. REUTERS/Sergio Moraes (BRAZIL - Tags: SOCIETY ANIMALS ENVIRONMENT TPX IMAGES OF THE DAY)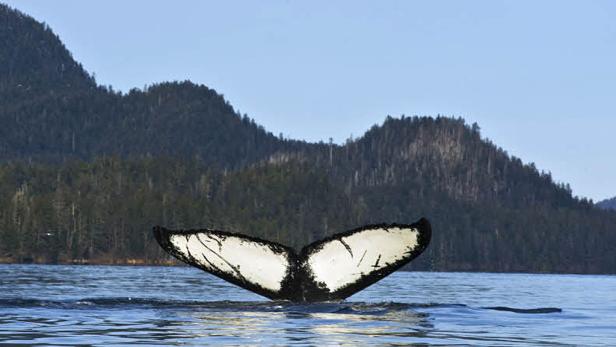 dapdA humpback whale dives near Starrigavan estuary in Sitka, Alaska, Wednesday, March 21, 2012. About a dozen whales have been in the area as herring gather to spawn. (Foto:Daily Sitka Sentinel, James Poulson/AP/dapd)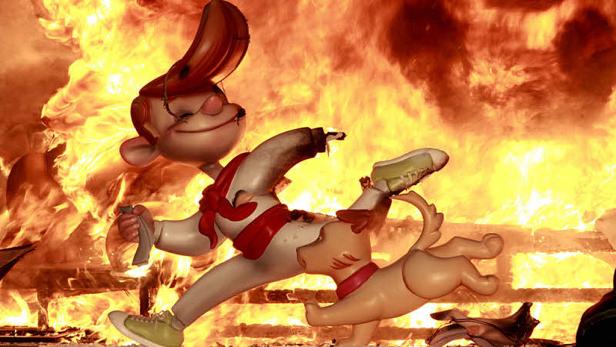 dapdPapier mache figures are burned during the Fallas festival in Valencia, Spain, Monday, March 19, 2012. Every year the city of Valencia celebrates the ancient "Las Fallas" fiesta, a noisy week that is full of fireworks and processions in honor of Saint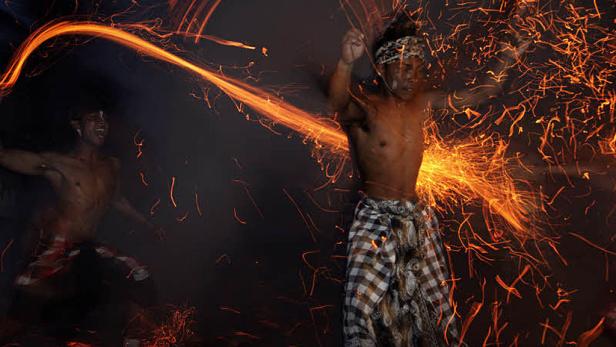 REUTERSA Balinese man hits another with fire during a ritual ahead of Nyepi day in Ubud Gianyar, Bali March 22, 2012. Nyepi is a day of silence to celebrate the Balinese new year, reserved for self-reflection, where people are not allowed to use lights, l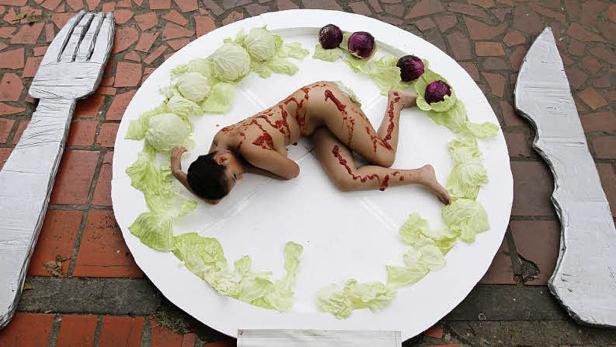 REUTERSAn animal rights activist poses as a piece of meat during a protest to promote vegetarianism on "Meat Out Day" in Cali March 20, 2012. REUTERS/Jaime Saldarriaga (COLOMBIA - Tags: ANIMALS CIVIL UNREST)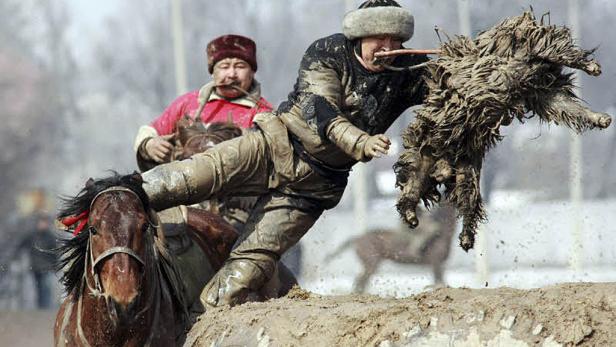 REUTERSHorsemen take part in a Kok-boru, or goat dragging, competition as part of Navruz celebrations, an ancient holiday marking the spring equinox, in the Kyrgyz capital Bishkek March 19, 2012. Considered Kyrgyzstans national sport, Kok-boru is a tradit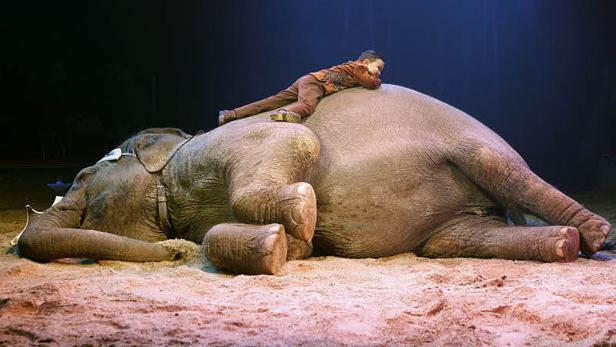 REUTERSSix-year-old Chris Rui Knie lies on an elephant during a rehearsal for the Swiss National-Circus Knies new show, in the town of Rapperswil, east of Zurich March 22, 2012. Circus Knie starts its 2012 tour today. REUTERS/Arnd Wiegmann (SWITZERLAND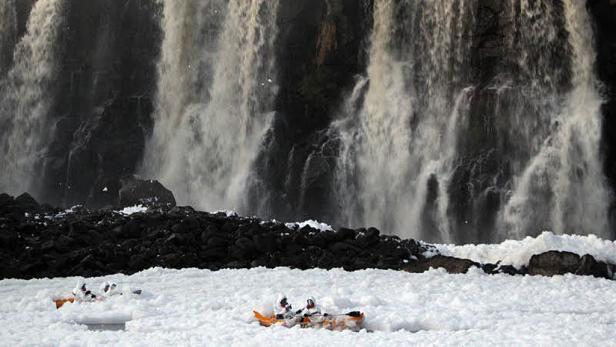 EPAepa03155269 Greenpeace activists kayak in front of El Salto de Juanacatlan waterfall, one of the most contaminated in the country, in Juanacatlan, Mexico, on 22 March 2012 to ask the Government for an environmental conservation policy for the Mexican r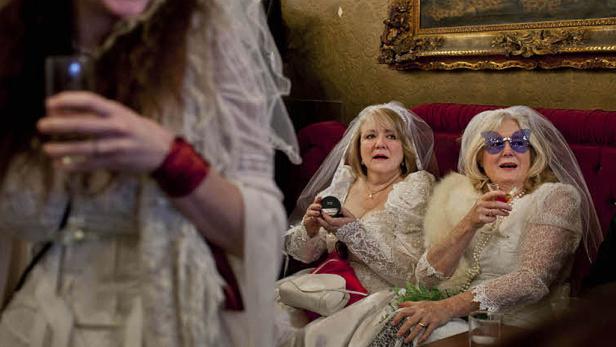 REUTERSParticipants, dressed in bridal outfits, drink champagne during the March of Brides parade through downtown San Francisco March 18, 2012. People don wedding clothes and stroll through the center of San Francisco during the annual event. REUTERS/Ja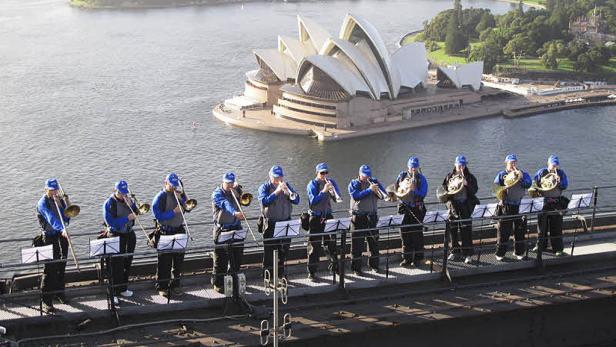 REUTERSEleven members of the Sydney Symphony Orchestra stand atop the Sydney Harbour Bridge, 134 metres (440 feet) above the water, as they perform Fanfare for the Common Man to celebrate the bridges 80th birthday March 19, 2012. REUTERS/BridgeClimb/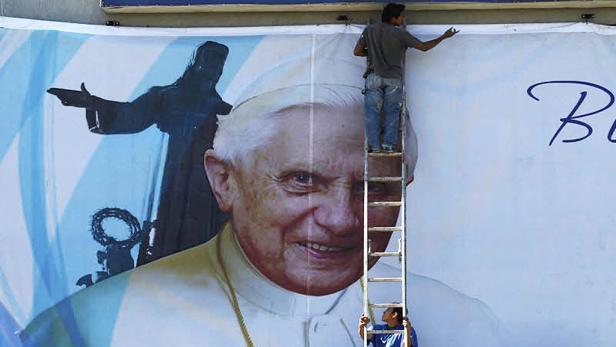 REUTERSWorkers hang a banner of Pope Benedict XVI in preparation for his arrival in Leon March 22, 2012. The Pope will arrive on March 23 for a three-day visit to the Mexican state of Guanajuato. REUTERS/Tomas Bravo (MEXICO - Tags: RELIGION)
APA stray dog smeared with colored powder walks in a lane on the last day of Holi festival celebrations in Bhopal, India, Monday, March 12, 2012. Holi, the Hindu festival of colors, also heralds the coming of spring. (AP Photo/Rafiq Maqbool)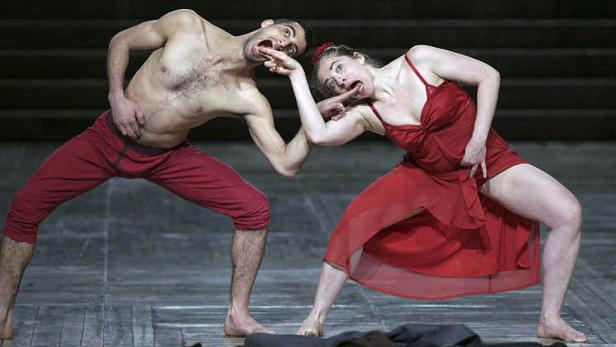 EPAepa03143009 A handout photo released on 13 March 2012 by Spanish Royal Opera House shows two dancers perfoming the Belgian choreographer Alain Platels contemporary opera C(h)oeurs, directed by Marc Piollet, at Madrid Royal Opera House, Spain. The audie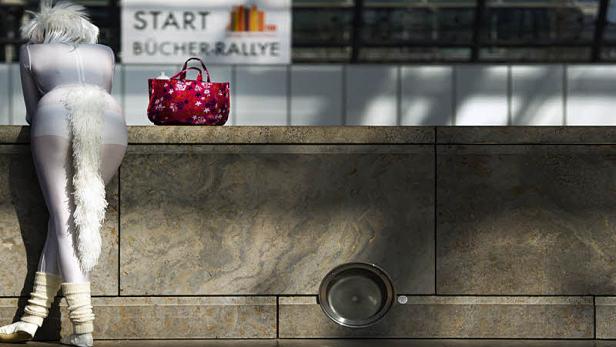 EPAepa03148642 A visitor wearing a costume stands in the glass hall at the Leipzig Book Fair, in Leipzig, Germany, 17 March 2012. Around 160,000 visitors are expected to attend the Leipzig Book Fair with 2,071 publishers from 44 countries from 15 until 18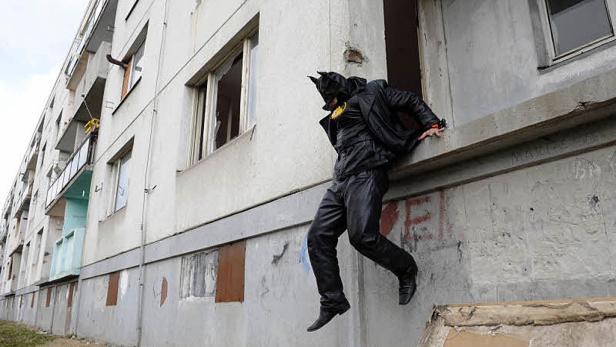 REUTERSZoltan Kohari, known as the Slovak Batman, leaves home from second-story window in town of Dunajska Streda, some 34 miles (55 km) south of Bratislava March 9, 2012. Kohari, who is 26 years old, lives alone in an abandoned building without water, he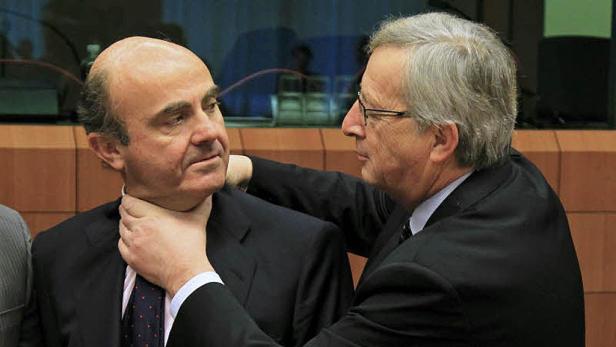 REUTERSSpains Economy Minister Luis de Guindos (L) is greeted by Luxembourgs Prime Minister and Eurogroup chairman Jean-Claude Juncker (R) at a Eurogroup meeting in Brussels March 12, 2012. Euro zone finance ministers will sign off on a second bailout for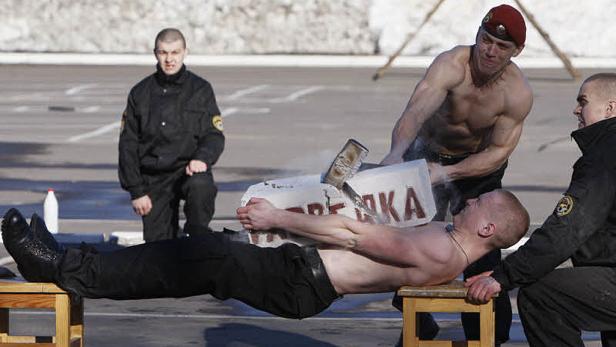 REUTERSA serviceman of a Belarusian Interior Ministrys special forces unit smashes a concrete block, that has been placed on the chest of a fellow soldier, with a sledge hammer during a show to mark the Day of Interior Forces in Minsk March 14, 2012. REUT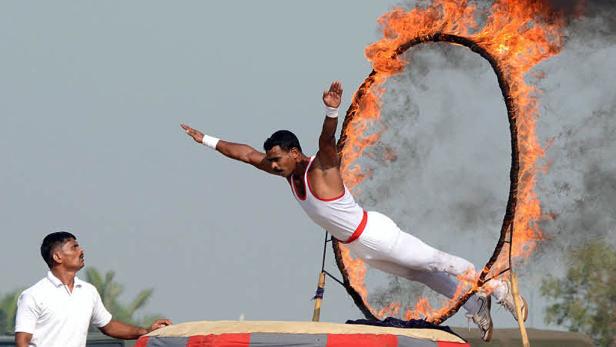 EPAepa03146901 An Indian cadet jumps through a ring of fire in the Officers Training Academy (OTA) in St. Thomas Mount, Chennai, India, 16 March 2012 as part of the year long Golden Jubilee celebrations to attract youth to join the service as commissioned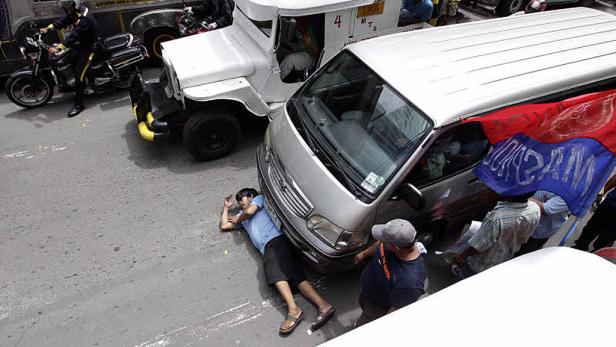 EPAepa03145484 A Filipino jeepney driver lays on the ground to prevent the flow of traffic during the nationwide anti-oil price hike protest in front of Shell office in Makati district, south of Manila, Philippines, 15 March 2012. The group in their sta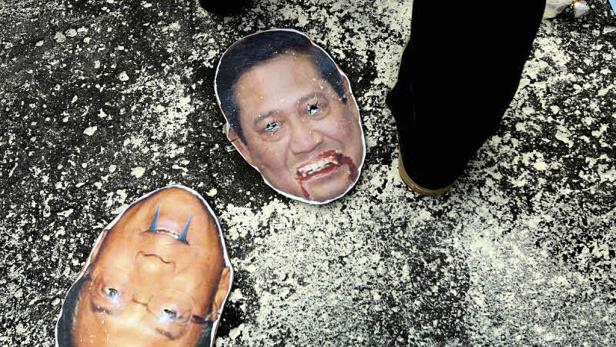 dapdDefaced mask of Indonesian President Susilo Bambang Yudhoyono, center, and Energy Minister Jero Wacik, bottom left, lie on the ground during a protest against governments plan to raise fuel prices outside the Ministry of Energy And Mineral Resources i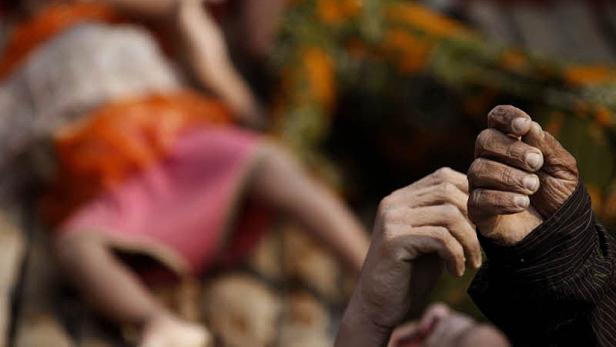 EPAepa03142963 Bodies of the victims on a boat following a ferry accident in Meghna at Gozaria, Munshigonj, Bangladesh 13 March 2012. Reports state that at least 31 people were killed and around 200 were still missing after a ferry capsized and sank. The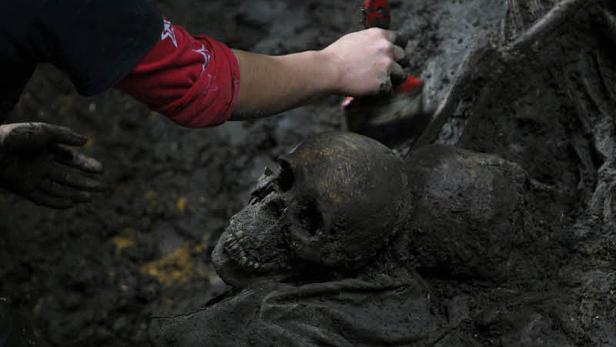 REUTERSAn anthropologist cleans a skull in a mass grave in the former Regional Command headquarters of the Guatemalan Army in Coban, about 212 km (131 miles) north of Guatemala City, March 13, 2012. The Public Ministry on February 27 began an exhumation a
APSpanish bullfighter Juan Jose Padilla performs during a bullfight in the southwestern Spanish town of Olivenza, Sunday, March 4, 2012. Padilla, who lost sight in one eye and has partial facial paralysis after a terrifying goring returned to the bullrin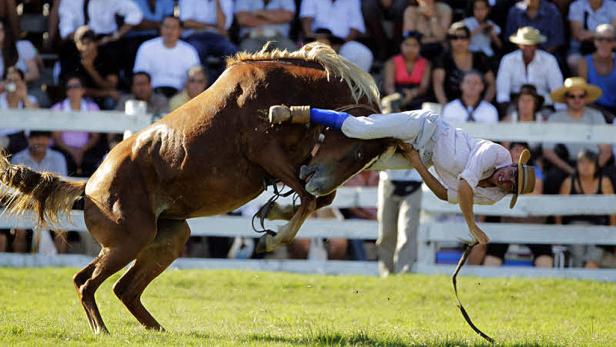 REUTERSA gaucho is thrown off an untamed horse during the Patria Gaucha Festival in Tacuarembo, 400 km (249 miles) north of Montevideo, March 8, 2012. The festival celebrates the preservation of the countrys rural traditions and country life. REUTERS/Andr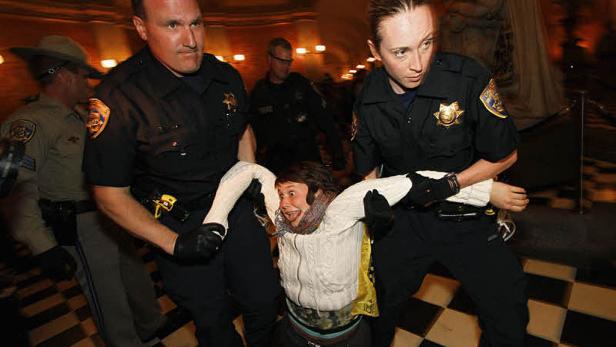 REUTERSPolice carry one of about 40 Occupy the Capitol protesters arrested inside the state Capitol in Sacramento, California, March 5, 2012. Protesters refused to leave the Capitol following a rally to demand increased funding for education. REUTERS/Ke
APUltra-Orthodox Jewish boys dressed for Purim pose for a photograph during celebration of Purim festival in Bnei Brak, near Tel Aviv, Israel, Wednesday, March 7, 2012. The Jewish holiday of Purim celebrates the Jews salvation from genocide in ancient Per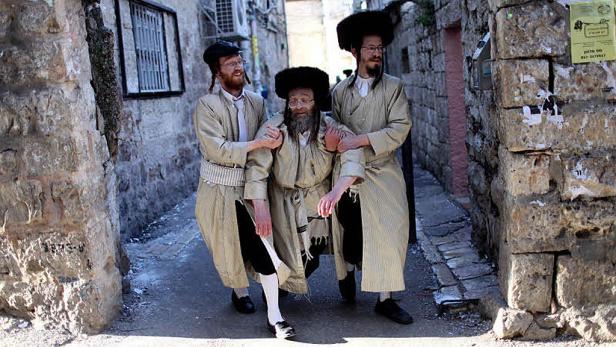 EPAepa03138339 Ultra-Orthodox Jewish men help an inebriated reveller on a street of Mea Shearim neighborhood of Jerusalem, 09 March 2012, during celebrations of the joyous holiday of Purim. Purim is a celebration of the Jews salvation from genocide in anc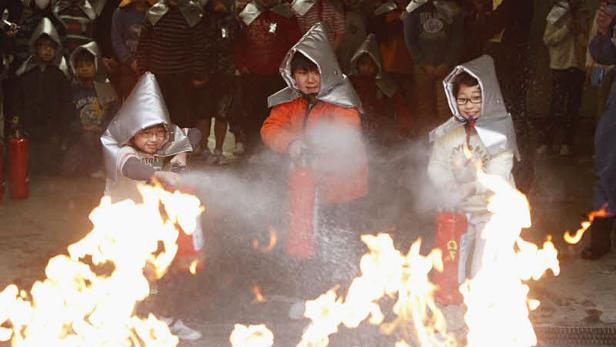 REUTERSREFILE. CORRECTING SPELLING OF CHIYODASchoolchildren, wearing padded hoods to protect them from falling debris, try their hands at putting out a fire during a disaster drill named "Shakeout Tokyo" at Izumi elementary school in Tokyo March 9, 2012,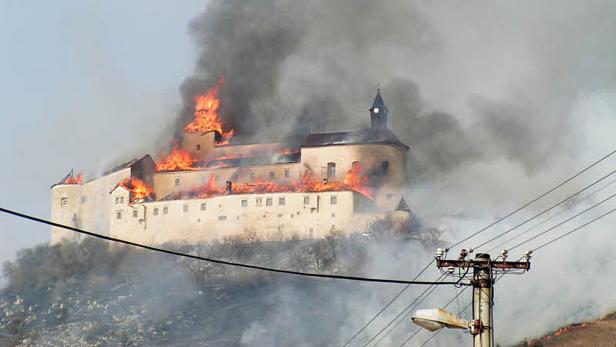 EPAepa03140097 Krasznahorka castle on fire at the village of Krasnohorske Podhradie near Roznava, eastern Slovakia, 10 March 2012. The roof of the castle was completely destroyed by the blaze, which was allegedly caused by burning dry grass. EPA/STR
APA supporter of Venezuelas President dances wearing a mask during a rally in Caracas, Venezuela, Saturday March 10, 2012. Chavez supporters held demonstrations on Saturday to show support for their ailing leader while he recovers from cancer surgery in C
APIn a Tuesday, March 6, 2012 photo provided by the Point Defiance Zoo & Aquarium, a newborn clouded leopard cub is hand-fed at the Point Defiance Zoo & Aquarium in Tacoma, Wash. An endangered clouded leopard gave birth to two healthy cubs, a male and a f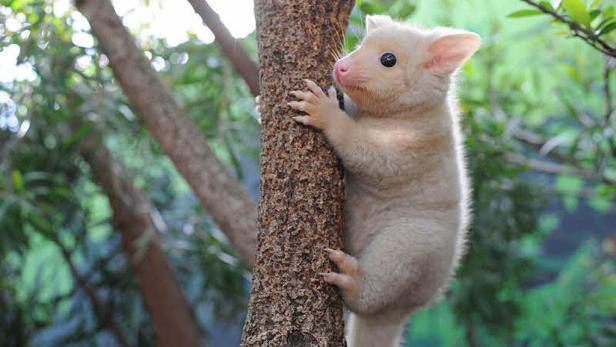 EPAepa03134879 A handout picture provided by Wild Life Sydney shows a rare Golden Brushtail Possum born at Wild Life Sydney on Australia, 07 March 2012. Golden Brushtail Possums are one of Australias largest arboreal (tree-dwelling) marsupials yet are rar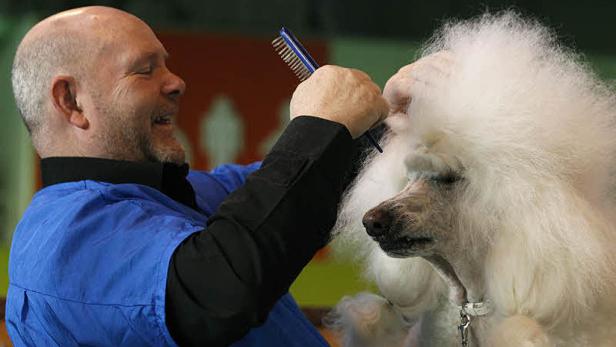 REUTERSAn owner grooms his Standard Poodle on the first day of the Crufts dog show in Birmingham, central England March 8, 2012. REUTERS/Phil Noble (BRITAIN - Tags: SOCIETY ANIMALS)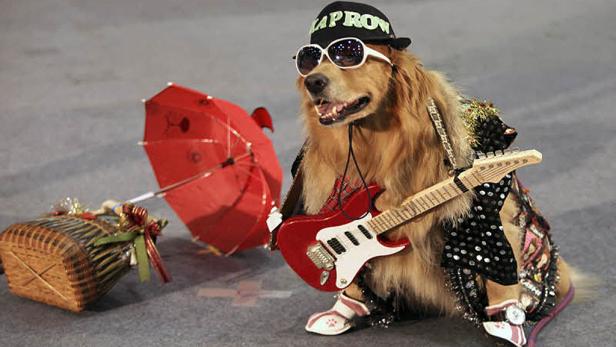 EPAepa03139357 A dog poses on the catwalk during a dog fashion show as part of Thailand International Dog Show On Tour at Chiang Mai province, northern Thailand, 10 March 2012. The event for dog lovers runs from 08 to 11 March in Chiang Mai with over 200
APThe largest solar storm in five years sent a huge wave of radiation into earths atmosphere creating a brilliant show of the aurora borealis near Yellowknife, North West Territories on Thursday March 8, 2012. Yellowknife, which is situated directly unde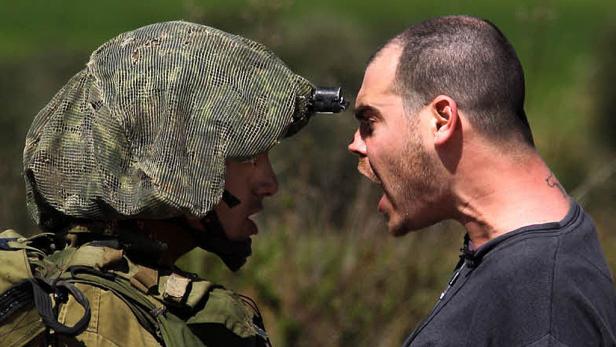 EPAepa03138144 A Palestinian protester argues with an Israeli soldier during clashes between locals and Israel security forces, at a protest against the closure and for the removal of a gate at the entrance of Bet Dajan village, that has been shut since 2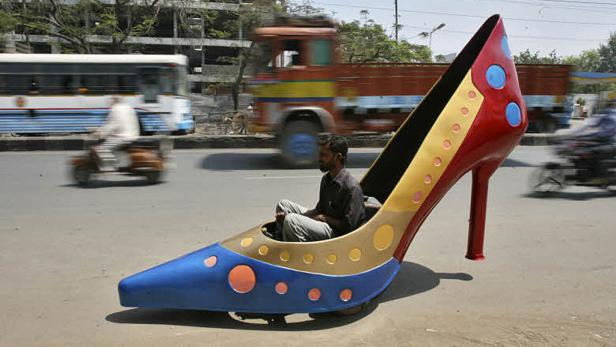 REUTERSA worker test drives a car in the shape of a heels on a road in the southern Indian city of Hyderabad March 7, 2012. The shoe is part of a ladies series of creations by Indian car designer Sudhakar Yadav to mark the International Womens Day and the
APStudents surround the wax figure of Anne Frank displayed at Madame Tussauds Wax Museum in Berlin, Friday, March 9, 2012. The new Anne Frank figure was unveiled Firday and is now part of the permanent exhibition at the wax museum in the German capital. (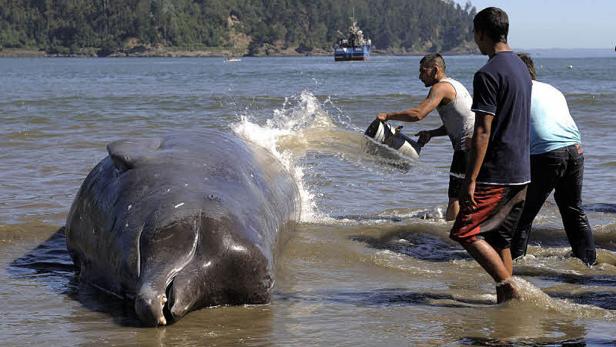 ReutersA man splashes water on a bottlenose whale as they attempt to save it at Colcura beach near Concepcion city, some 500 km (311 miles) south of Santiago March 7, 2012. People began on Wednesday an operation to save the beached bottlenose whale which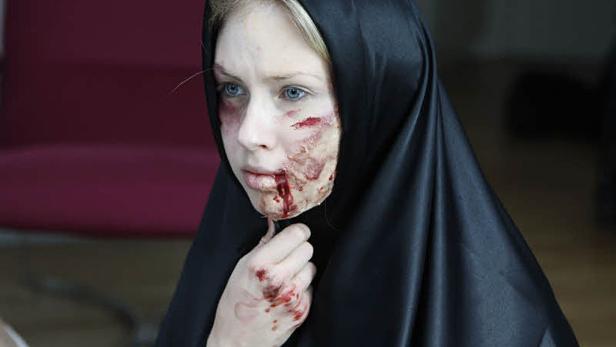 REUTERSAn activist of the womens rights group Femen prepares for a protest against domestic violence in Istanbul March 8, 2012. Reuters/Osman Orsal (TURKEY - Tags: CIVIL UNREST)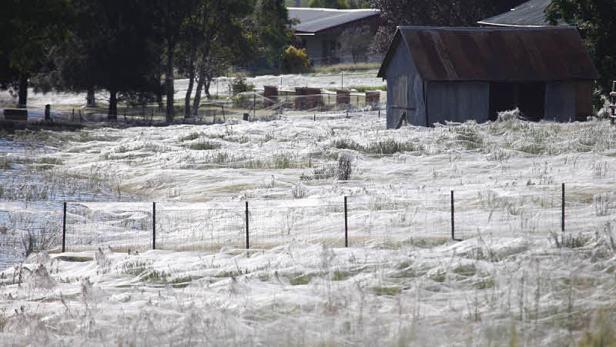 AAP/Lukas Cochepa03133660 Thousands of spiders build new spider webs after floodwaters forced them to move to higher grounds in Wagga Wagga New South Wales, Australia on 06 March 2012. Reports state that more than 9000 people have been evacuated from Wagg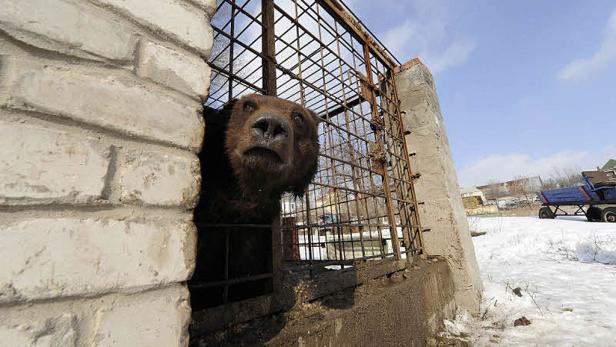 REUTERSPotac, a 3-years old male bear, looks out from his four square meters cage in Luhansk, about 800 km (490 miles) from Kiev, February 27, 2012. Potac was kept by his owner, the head of a Luhansk regional childrens public organisation to train hunting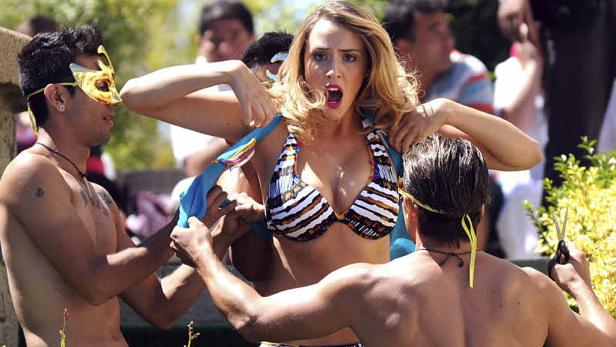 EPAepa03124846 Chilean host Valera Ortega (C) poses after winning the tittle of Queen of the Vina del Mar Festival, in Vina del Mar, Chile, 27 February 2012. The music festival takes place from 22 to 27 February. EPA/ARIEL MARINKOVIC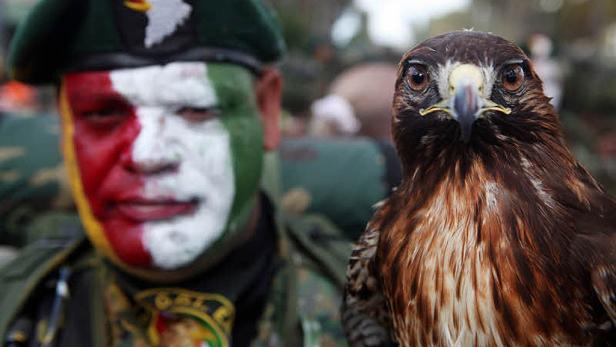 EPAepa03125027 A member of the army participates whilst holding a bird of prey, in a military parade in Santo Domingo, Dominican Republic, during the celebrations of the National Independence Day, on 27 February 2012. EPA/Orlando Barria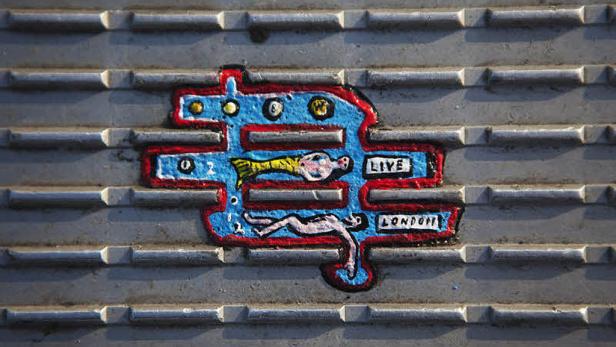 REUTERSA new miniature painting made on discarded chewing gum by artist Ben Wilson is seen on the Millennium Bridge in London February 28, 2012. Wilson has painted miniature works of art on discarded chewing gum in various parts of London and Europe over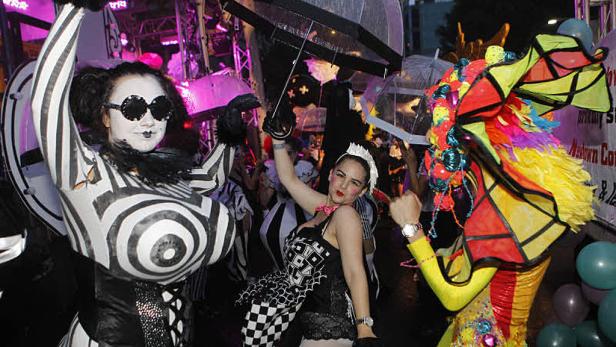 REUTERSRevellers dance for pictures during the 34th annual gay and lesbian Mardi Gras parade in central Sydney March 3, 2012. REUTERS/Daniel Munoz (AUSTRALIA - Tags: SOCIETY ENTERTAINMENT)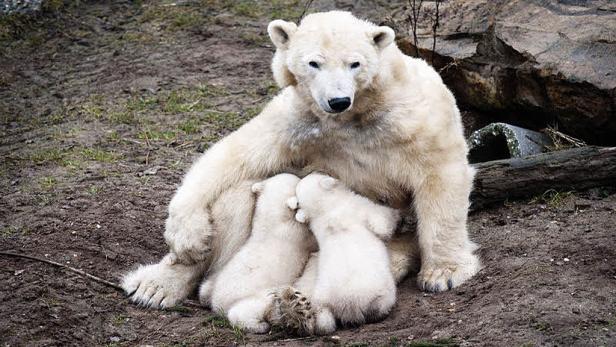 EPAepa03126768 The Polar Bear twins are feed by their mother Huggies in the open air for the first time in Dutch Zoo Ouwehands Dierenpark in Rhenen, The Netherlands, 29 February 2012. The cubs were born three months ago. EPA/ERIK VAN T WOUD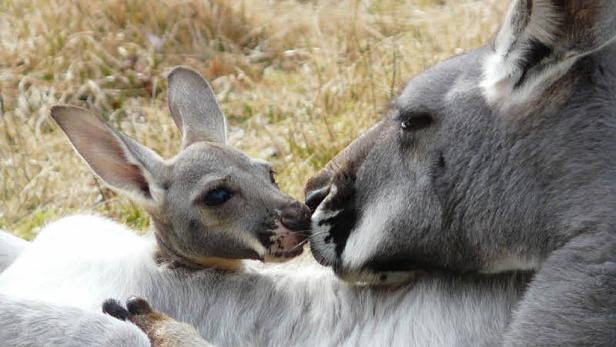 REUTERSA joey, which is approximately six months old, pokes its head out of its mother?s pouch at Franklin Park Zoo in Boston, Massachusetts, in this image released to Reuters on March 1, 2012. Kangaroo babies are born after a very short 30 to 35 day gest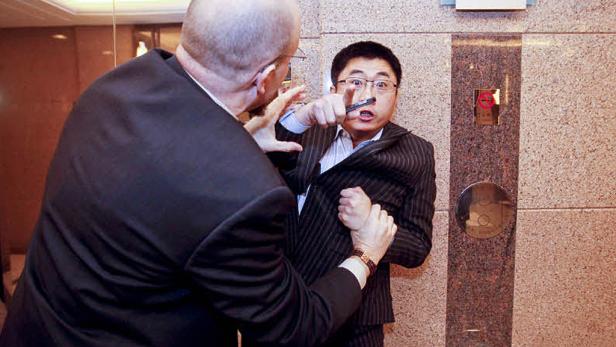 EPAepa03125090 A protester (R) who shouts that State-owned industries should not be privatized and that the World Bank is poisoning China is removed by security after disrupting a press conference by World Bank president Robert Zoellick at the World Bank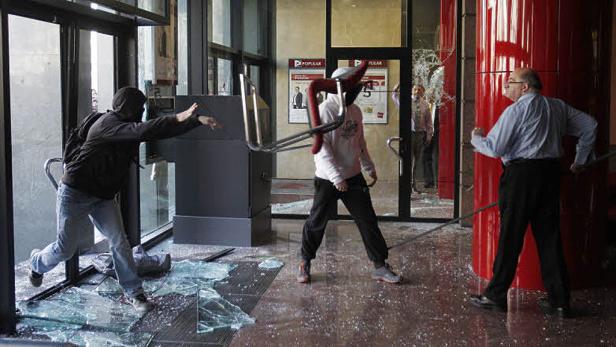 REUTERSA man confronts hooded protesters who were vandalising a bank during a protest against cuts in public education in Barcelona February 29, 2012. REUTERS/Albert Gea (SPAIN - Tags: CIVIL UNREST EDUCATION POLITICS)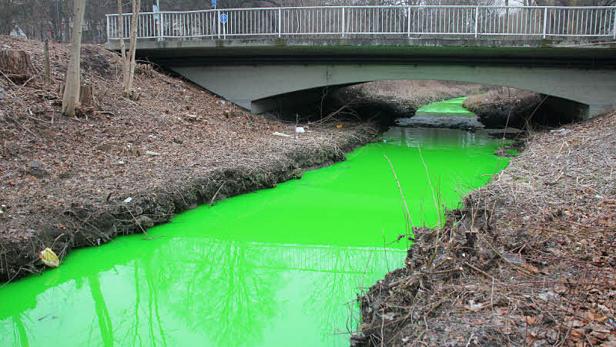 dpa/Stefan RampfelDas Wasser des Bachs Grone, der in die Leine mündet, hat sich am Freitag (02.03.2012) nach einem Brand im Göttinger Industriegebiet durch das Löschwasser grün verfärbt. Dies sei nach bisherigen Erkenntnissen aber ungefährlich, sagt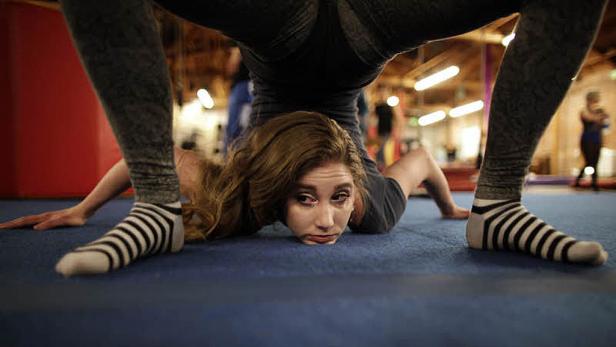 REUTERSScarlett Stoever, 23, trains at Cirque School in Hollywood, Los Angeles, California March 1, 2012. Circus professionals train at the school, which also teaches recreational circus classes to the public. REUTERS/Lucy Nicholson (UNITED STATES - Tags:
APA bridal car leads a wedding procession along the seafront in gale force winds in Maputo, Saturday, March 3, 2012. Heavy rains are expected to reach land with the arrival of cyclone Irina. Emergency services are on standby to handle any eventualities sh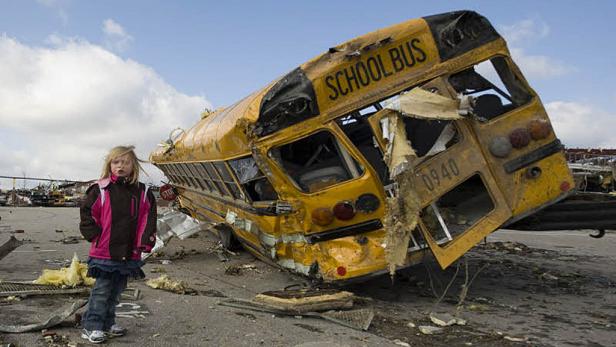 ReutersStudent Madeline Evans walks past a destroyed school bus after a tornado devastated the town of Henryville, Indiana, March 3, 2012. Rescue teams and residents combed through storm-wracked towns to assess damage on Saturday from a chain of tornadoes
Wir würden hier gerne eine Newsletter Anmeldung zeigen. Leider haben Sie uns hierfür keine Zustimmung gegeben. Wenn Sie diesen anzeigen wollen, stimmen sie bitte Piano Software Inc. zu.