Occupy-Bewegung: Die 99% sind wieder da
Vor einem Jahr besetzten Demonstranten die New Yorker Wall Street, nun meldet sich die Bewegung zurück. "Occupy Wall Street" im Rückblick.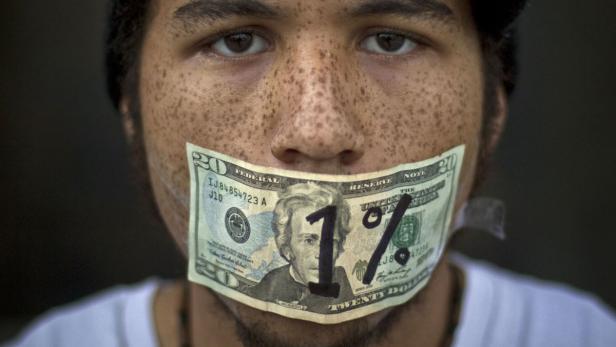 ReutersRoshan Bliss, who says he has a debt of $50,000 in school loans, attends an Occupy Denver demonstration in Denver, Colorado to celebrate the two-month anniversary of Occupy Wall Street in this November 17, 2011 file photograph. More than eight mont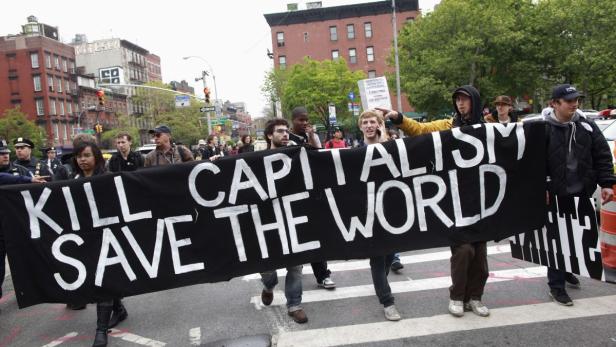 REUTERSOccupy Wall Street activists march through the Lower East Side during May Day demonstrations in New York May 1, 2012. REUTERS/Andrew Kelly (UNITED STATES - Tags: CIVIL UNREST BUSINESS POLITICS)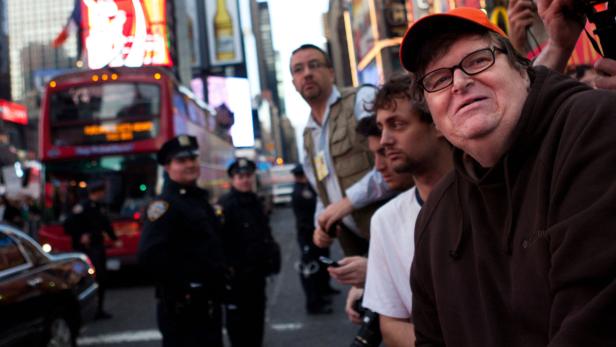 dapdMichael Moore is among the thousands of Occupy Wall Street protestors streaming into Times Square the day after they successfully resisted a potential eviction from their camp in Zuccotti Park, Saturday, Oct. 15, 2011, in New York. Thousands of demons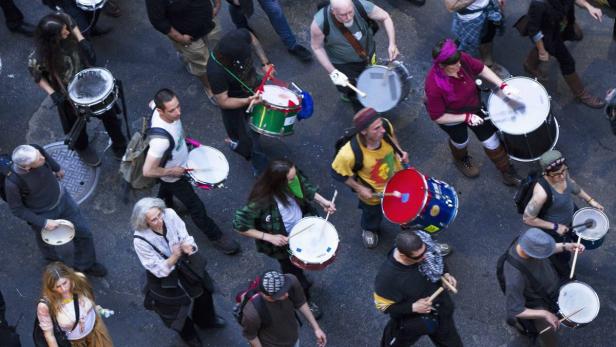 REUTERSMembers from the Occupy Wall Street movement drum as they march down Broadway during a May Day demonstration in New York, in this May 1, 2012 file photograph. More than eight months after Occupy Wall Street stormed the global stage, decrying econom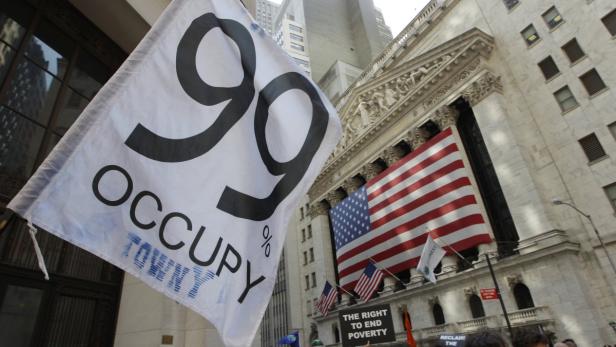 dapdOccupy Wall Street protestors walk past the New York Stock Exchange Wednesday, July 11, 2012, in New York. The Dow Jones industrial average closed lower for the fifth straight day as worries about sluggish economic growth weighed on markets. (Foto:Fr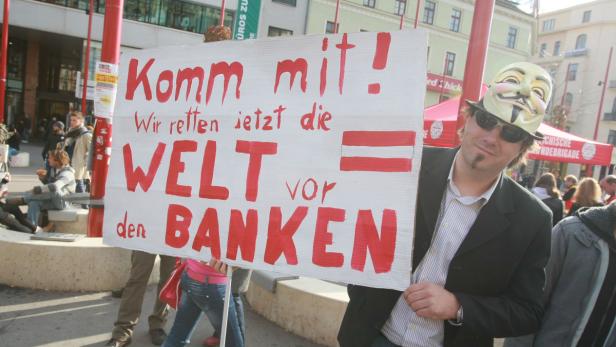 Demonstration Wien occupy wallstreet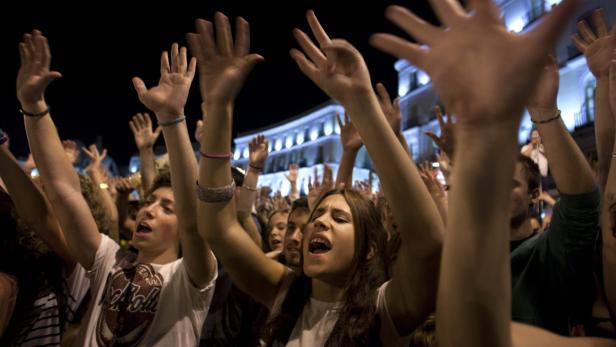 dapdProtesters shout slogans during a demonstration against the government and banks in Puerta del Sol square in solidarity action for the worldwide protest dubbed "Occupy the City" in Madrid on Saturday, Oct. 15, 2011. The organizers of the Oc Wall Stree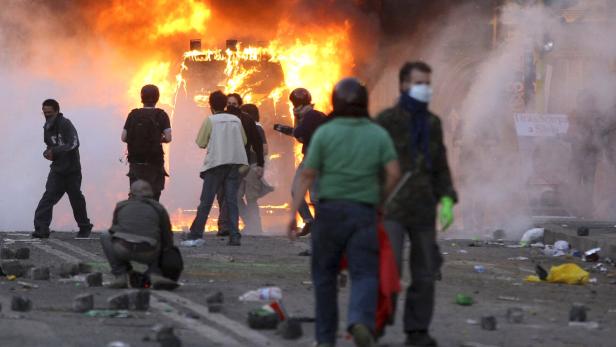 dapdA Carabinieri (Italian paramilitary police) van is engulfed in flames after protesters set it on fire during clashes in Rome, Saturday, Oct. 15, 2011. Italian police fired tear gas and water cannons as protesters in Rome turned a demonstration against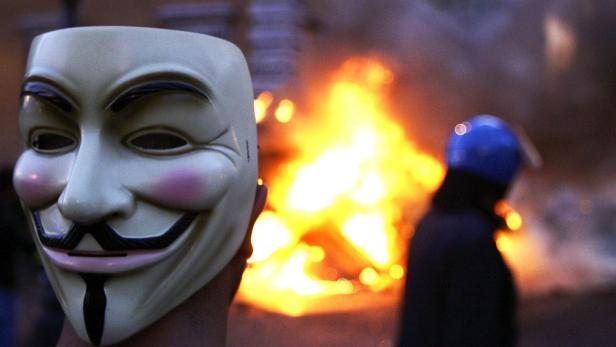 REUTERSA protester wearing a Guy Fawkes mask look on as a Carabinieri police vehicle burns during a demonstration by the Indignant group in Rome October 15, 2011. Demonstrators rallied on Saturday across the world to accuse bankers and politicians of wre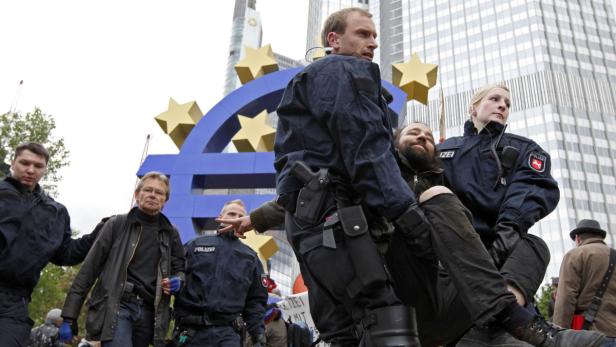 dapdHessen/ Polizisten tragen am Mittwoch (16.05.12) vor der Zentrale der Europaeischen Zentralbank (EZB) in Frankfurt am Main bei der Raeumung des "Occupy Frankfurt"-Camps einktivisten. Das Occupy-Camp vor der Europaeisaeischen Zentralbank in Frankfurt a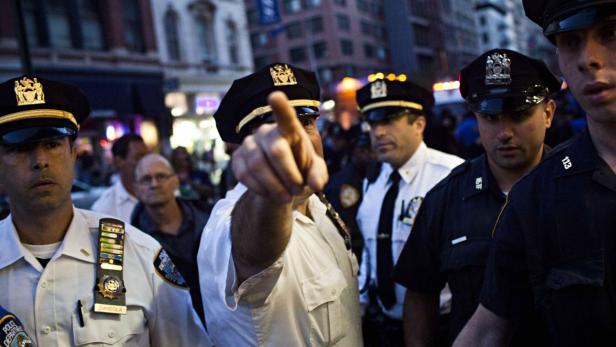 REUTERSA police officer gives orders to Occupy Wall Street protesters during a march from Washington Square Park to the Financial District, in New York, September 15, 2012. Occupy Wall Street marks its first anniversary on Monday, and, in a bid to rejuven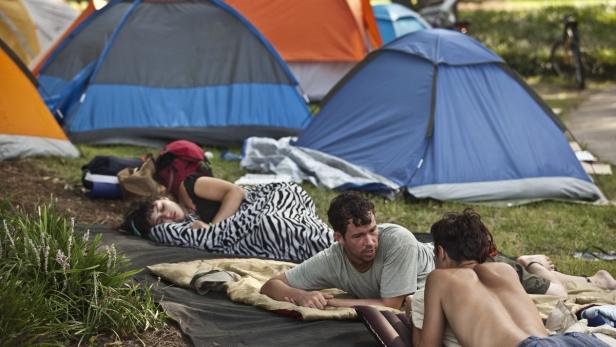 REUTERSProtesters with the Occupy Wall Street movement camp out at Marshall Park prior to the start of the Democratic National Convention in Charlotte, North Carolina September 3, 2012. The convention officially starts in Charlotte this week. REUTERS/John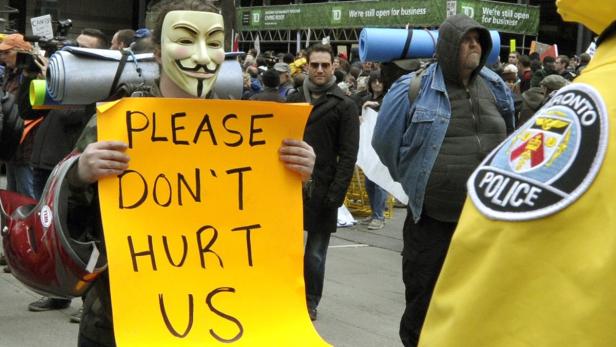 REUTERSA protester holds a sign in front of police officers during the Occupy Toronto march in the financial district in Toronto, October 15, 2011. Protests inspired by the grassroots Occupy Wall Street movement are planned for dozens of cities world-wide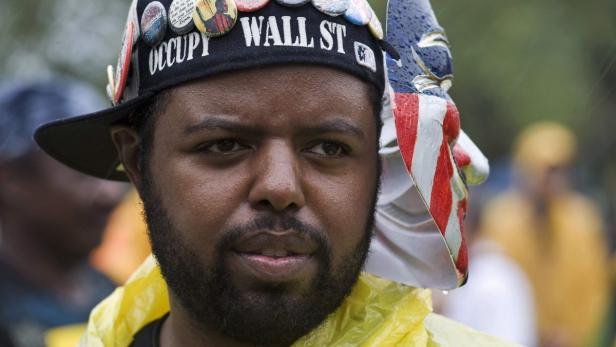 REUTERSOccupy Wallstreet activist Jason Woody listens to a speaker during a rally before the start of the Republican National Convention in Tampa, Florida, August 27, 2012. REUTERS/Steve Nesius (UNITED STATES - Tags: POLITICS ELECTIONS CIVIL UNREST)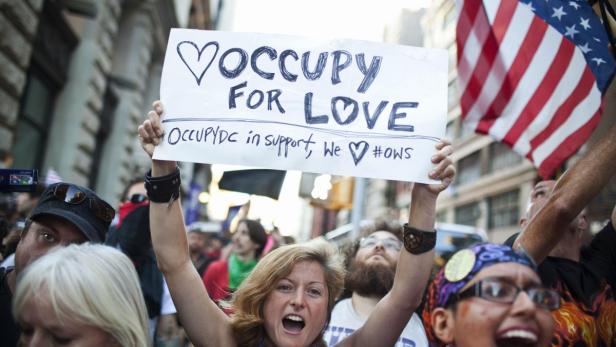 REUTERSA protester holds up a poster as members of Occupy Wall Street march from Washington Square Park to the Financial District in New York, September 15, 2012. A revival of the Occupy Wall Street protests has emerged in the build-up to the movements an
Wir würden hier gerne eine Newsletter Anmeldung zeigen. Leider haben Sie uns hierfür keine Zustimmung gegeben. Wenn Sie diesen anzeigen wollen, stimmen sie bitte Piano Software Inc. zu.