Eurokrise: Zweieinhalb Jahre Ausnahmezustand
Ein neuer EU-Gipfel, ein altes Thema: Beim Treffen der europäischen Staats- und Regierungschefs in Brüssel steht erneut die Staatsschuldenkrise im Mittelpunkt.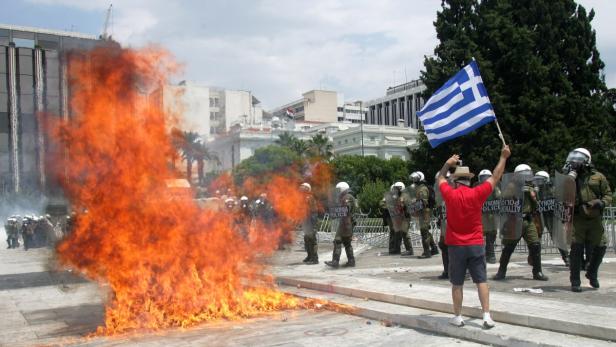 EPAepa02801718 A demonstrater waves a Greek flag next to a fire and Greek riot police in front of the Greek Parliament building during clashes on the second day of a 48-hour general strike in Athens, Greece, 29 June 2011. Millions of Greeks participated i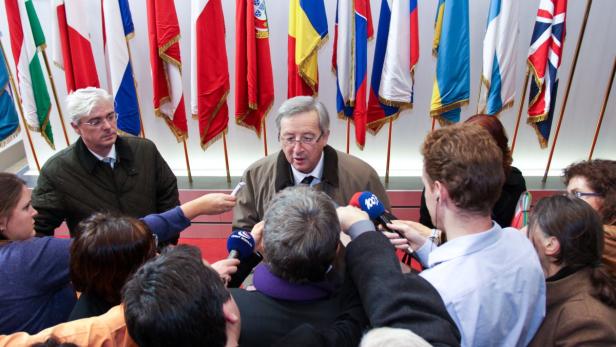 EPAepa01961432 Luxembourg Prime Minister Jean-Claude Juncker during a press conference on the first day of the EU Summit in Brussels, Belgium, 10 December 2009. The leaders of the 27 EU member states will discuss two key issues: climate change and interna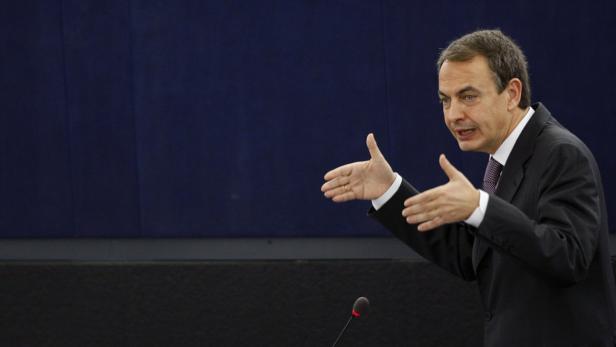 REUTERSSpains Prime Minister Jose Luis Rodriguez Zapatero addresses the European Parliament in Strasbourg, January 20, 2010, during a presentation on behalf of Spains EU presidency. REUTERS/Vincent Kessler (FRANCE - Tags: POLITICS)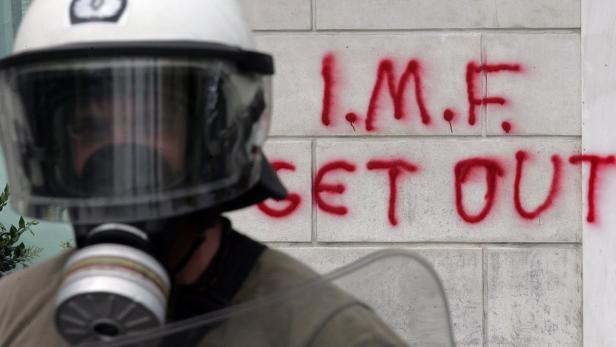 EPAepa02144354 A riot policeman stands in front of a slogan reading IMF get out during a demonstration in front of the Greek Parliament in Athens, Greece, 05 May 2010. Three people died in a fire in a bank started by Greek protesters in central Athens, po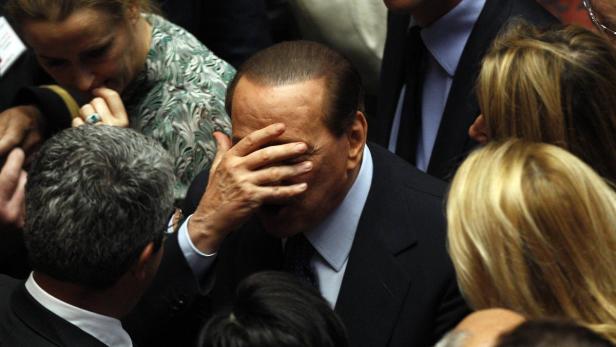 REUTERSItalys Prime Minister Silvio Berlusconi (C) gestures after a final confidence vote on a 25 billion euro austerity package at Italys upper house of Parliament in Rome July 28, 2010. Berlusconis government won the final confidence vote on the package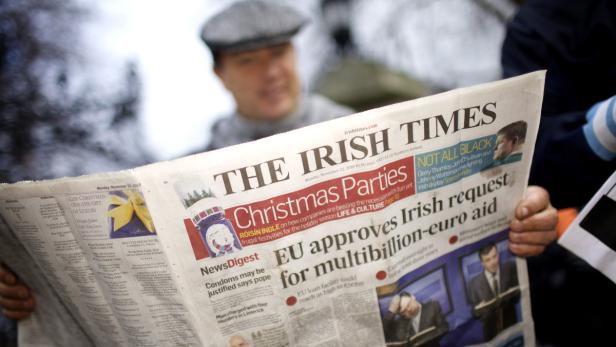 EPAepa02462061 An Irish national newspaper carrying headlines of an EU approved bailout for the country, is read outside the Irish Parliament 22 November 2010. Supporters of opposition parties stormed the gates of the parliament after the ruling Fianna F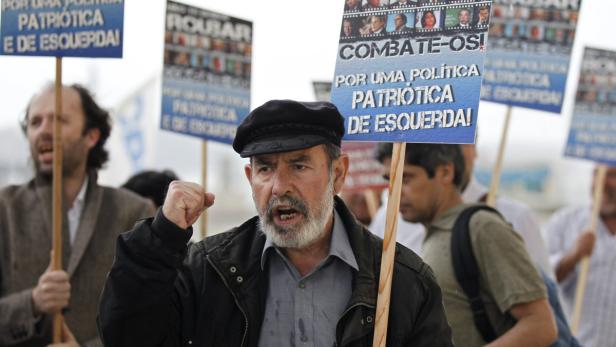 dapdDozens of Portuguese communist party sympathizers shout slogans against the presence of the International Monetary Fund in Portugal outside the Portuguese finance ministry Monday, April 18 2011. Portugal began its quest for financial assistance Mond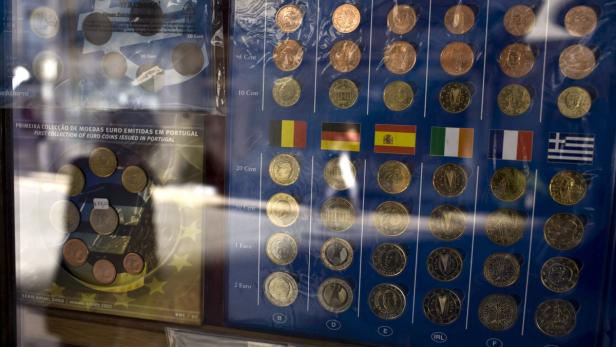 dapdEuro coins are displayed on the window of a collectors shop selling coins and stamps Wednesday, Dec. 15 2010, in Lisbon. Portugals government was set to unveil more reforms Wednesday aimed at pulling the country out of a financial crisis that has cont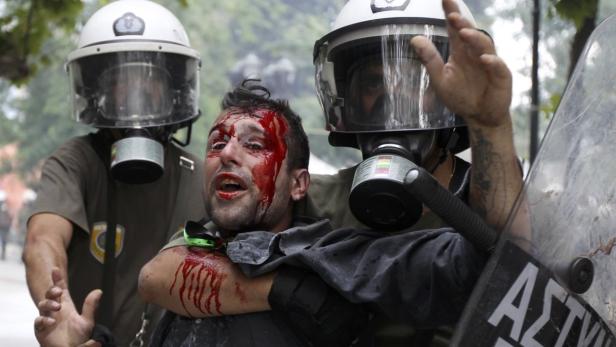 REUTERSRiot police detain a demonstrator during a protest in Athens Syntagma (Constitution) square, June 29, 2011. Greeces parliament has approved unpopular austerity measures on Wednesday, despite violent protests, to secure international funds to preven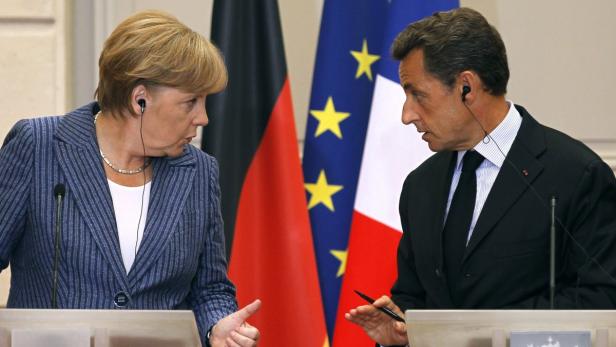 REUTERSFrances President Nicolas Sarkozy (R) and German Chancellor Angela Merkel talk during a news conference at the Elysee Palace in Paris, August 16, 2011. The leaders of France and Germany met for high-pressure talks on Tuesday to discuss what further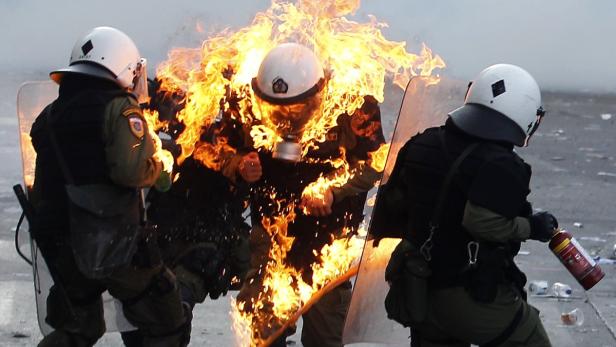 dapdRiot policemen assist a colleague whose clothing caught fire after being hit by a petrol bomb during rioting in central Athens, Thursday, Oct. 20, 2011. A protester died and dozens were injured during an anti-austerity demonstration that turned violen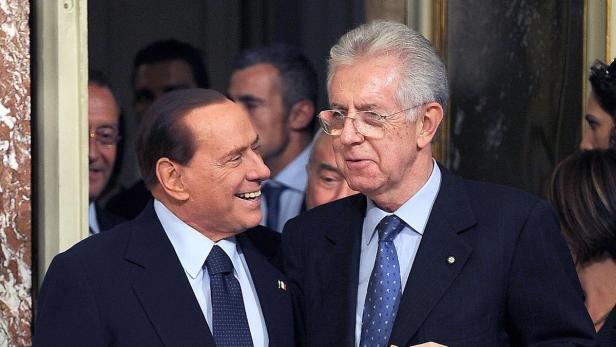 EPAepa03005811 Italys new Prime Minister Mario Monti (R) and outgoing Prime Minister Silvio Berlusconi before the bell ceremony marking the moment Monti takes office at Palazzo Chigi, in Rome, Italy, 16 November 2011. Reports state that Prime Minister Mar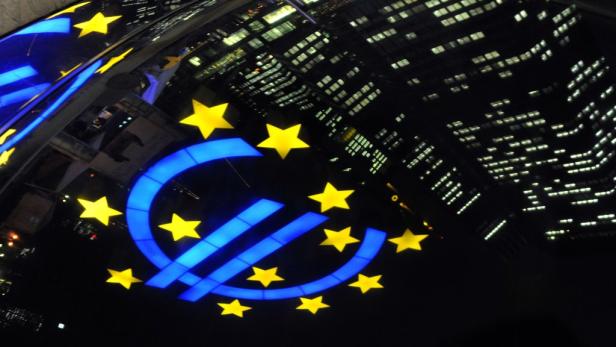 dpa/Boris Roessler«We pay ??» lautet ein Schriftzug der Occupy-Bewegung auf dem Bürgersteig (oben links) vor der Europäischen Zentralbank in Frankfurt am Mittwoch (21.12.2011), während sich das Euro-Symbol in der Motorhaube eines Autos spiegelt. Zahl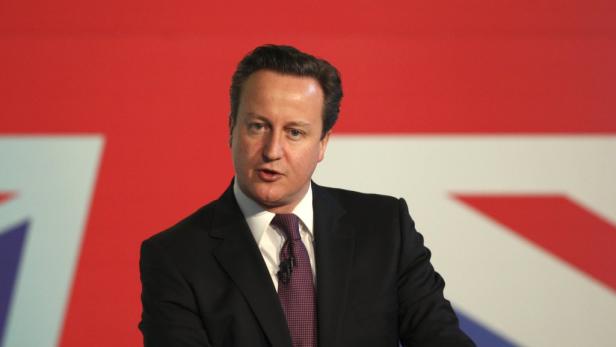 Britains Prime Minister David Cameron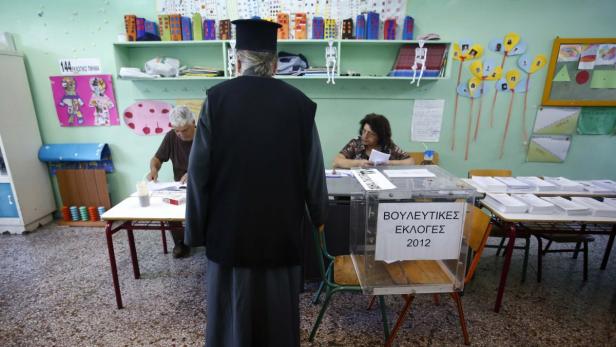 REUTERSA Greek orthodox priest waits to vote at an Athens primary school used as a polling station June 17, 2012. Voting opened on Sunday in a Greek election that could decide whether the heavily indebted country remains in the euro zone or heads for the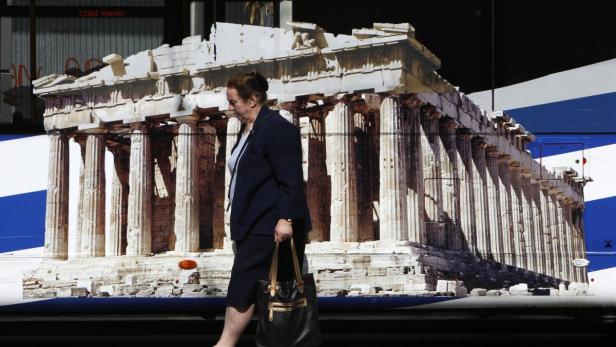 Wir würden hier gerne eine Newsletter Anmeldung zeigen. Leider haben Sie uns hierfür keine Zustimmung gegeben. Wenn Sie diesen anzeigen wollen, stimmen sie bitte Piano Software Inc. zu.