Kristallkugel für Schlierenzauer kein Muss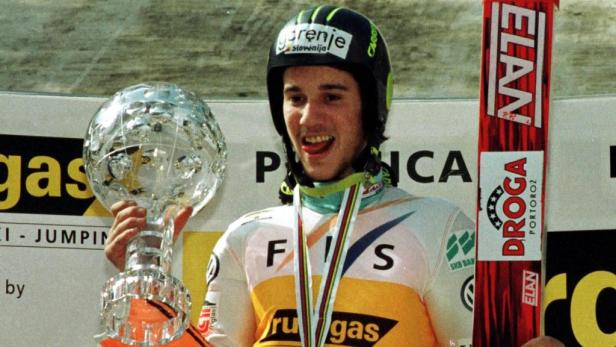 Norwegen könnte sich beim Saison-Finale in Planica nach 18 Jahren Pause wieder den Gesamt-Weltcup holen.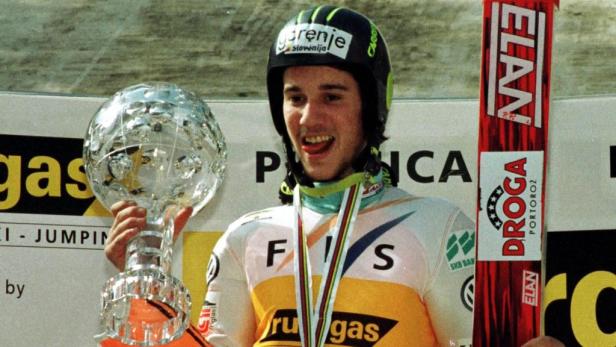 PLAN08:SPORT-SKI JUMPING:PLANICA,SLOVENIA,23MAR97 - Primoz Peterka of Slovenia holds the trophy after winning the overal ski jumping World Cup March 23. Peterka ended the season with 1,402 points. Photo by Srdjan Zivulovic REUTERS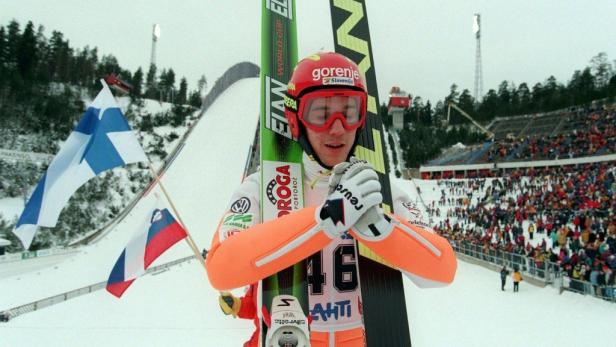 HEL04 - 19980308 - LAHTI, FINLAND : Primoz Peterka of Slovenia folds his hands in emotion after he won the World Cup ski jumping K116 at in Lahti 08 March. Second placed Jani Soininen of Finland, third Kristian Brenden of Norway. EPA/LEHTIKUVA / MATTI BJO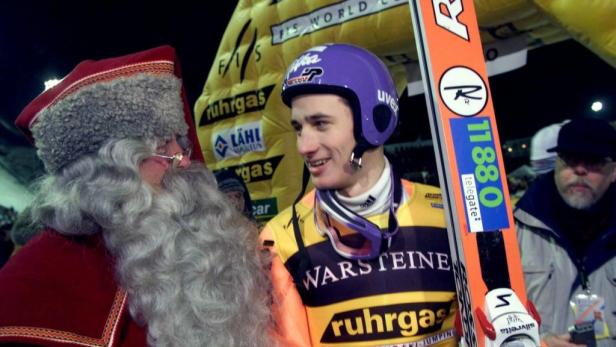 HEL01 - 19991127 - KUOPIO, FINLAND: German Martin Schmitt chats with Santa Claus after winning the World Cup ski jumping competition in Kuopio, Saturday 27 November 1999. Schmitt won ahead of Austrian Andreas Goldberger and Finn Matti Hautamaeki.EPA PHOTO
APMartin Schmitt of Germany flies during the 3rd World ski-jumping cup final held in Planica Slovenia on Sunday March 19,2000.Schmitt became winner of World ski-jumping cup with 1833 points.(AP Photo Hrvoje Knez)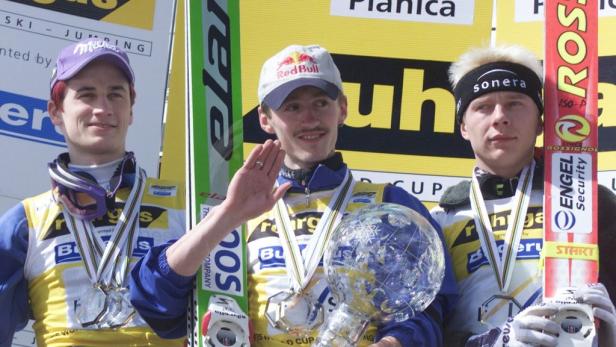 Winners of the Ski Jumping World Cup 2001 event greet spectators during the award ceremony in Planica, March 18, 2001. Adam Malysz of Poland (C) won the overall title ahead of Germanys Martin Schmitt (L) and third placed Risto Jussilainen of Finland (R).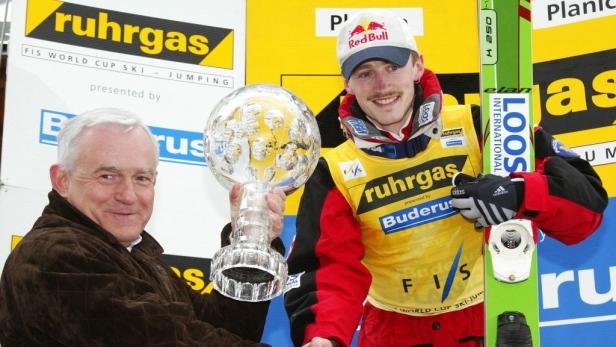 Polish Prime Minister Leszek Miller presents the crystal globe to the winner of the ski jumping World Cup Adam Malysz on the podium following the cancellation of the seasons final competition in Planica on March 24, 2002. Malysz won with total 1475 points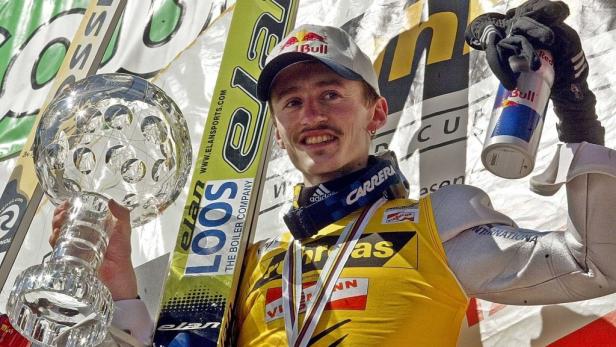 PLA08 20030323 PLANICA, SLOVENIA: Adam Malysz, of Poland, posses for photographers with cup, just after the last FIS World Cups ski jumping in Planica on Sunday 23 March 2003. Malysz is the 3rd time World Cup champion in row. EPA PHOTO EPA SRDJAN SUKI ss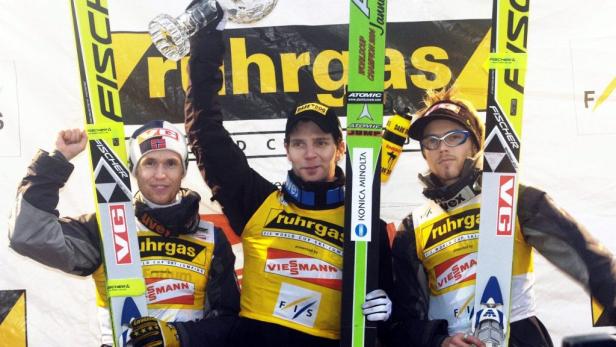 epa00153653 World Cup overall winner Janne Ahonen (C) of Finland is flanked by second placed overall Norways Roar Lokelsoy (L) and his compatriot third placed overall Bjorn Einar Romoren after the World Cup Ski-jumping event in Oslo, 14 March 2004. EPA/JA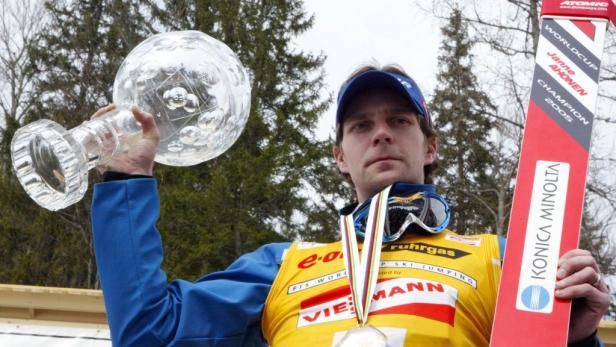 Overall winner Janne Ahonen of Finland celebrates with trophy after FIS World Cup Ski jumping event in Planica, March 20, 2005.REUTERS/Nikola Solic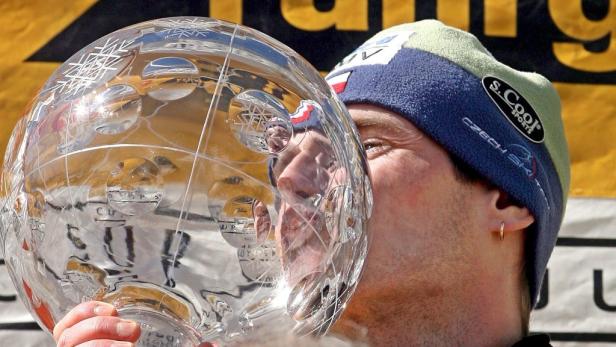 EPAepa00671923 Winner of ski jumping World Cup Czech Jakub Janda kisses his trophy as he celebrate on the podium after the ski jumping World Cup race in Planica, Sunday 19 March 2006. EPA/STR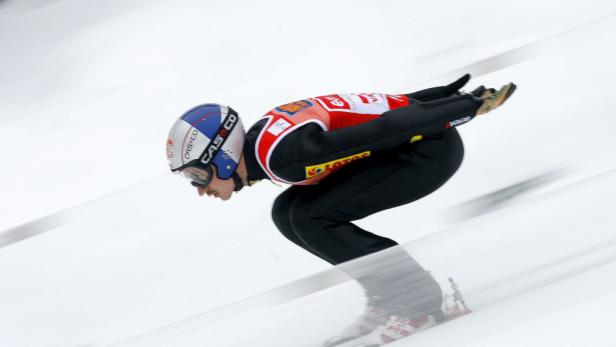 REUTERSAdam Malysz of Poland skis during his trial jump for the Ski Jumping World Cup competition in Planica March 25, 2007.REUTERS/Srdjan Zivulovic (SLOVENIA)
APAustrians Gregor Schlierenzauer, left, and Thomas Morgenstern, center, along with Janne Ahonen of Finland celebrate on the podium of the overall FIS World Cup Ski Jumping competition, in Planica, Slovenia Sunday, March 16, 2008. Morgenstern won the Worl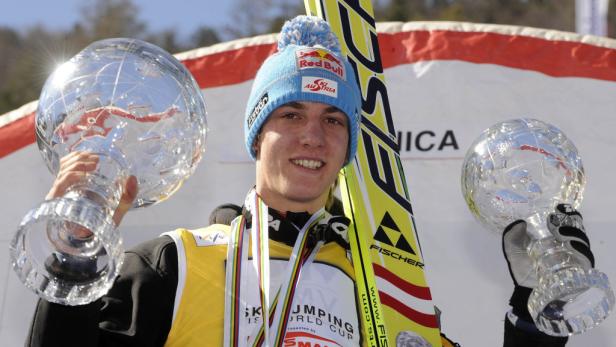 REUTERSGregor Schlierenzauer of Austria shows his trophies for his overall victory in ski jumping and ski flying after the final FIS World Cup ski jumping competition in Planica March 22, 2009. REUTERS/Srdjan Zivulovic(SLOVENIA SPORT SKIING)
APSwitzerlands Simon Ammann competes during the qualification at the Ski Flying World Championships in Planica, Slovenia, Thursday, March 18, 2010. (AP Photo/Darko Bandic)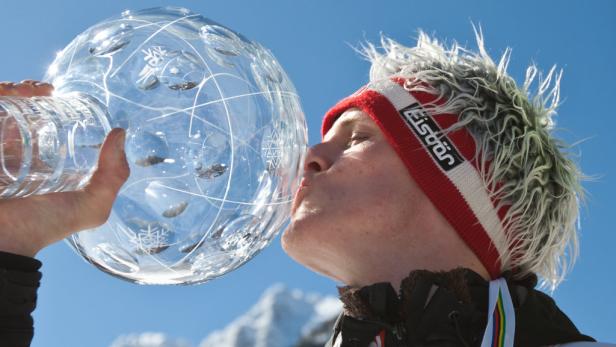 APA/EXPA/JOHANN GRODERAPA3800875-2 - 20032011 - PLANICA - SLOWENIEN: ZU APA-TEXT SA - Skisprung-Gesamtweltcup-Gewinner Thomas Morgenstern (AUT) mit der Weltcupkugel während des Weltcup Finales im Skifliegen am Sonntag, 20. März 2011, in Planica. APA-FOT