Kasachstan: Wo die Hauptstadt Hauptstadt heißt und der Präsident keine schmutzigen Autos mag.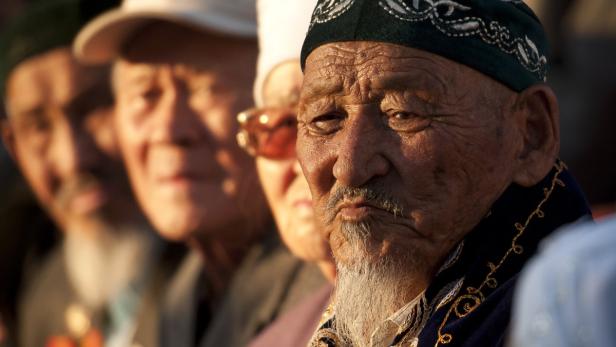 EPAepa02354971 Picture made available 24 September 2010 shows distinguished guest look on during a ceremony in which NASA Astronaut Peggy Whitson, and Russian Cosmonauts Valery Korzun and Gennady Padalka were recognized for their achievements in space fli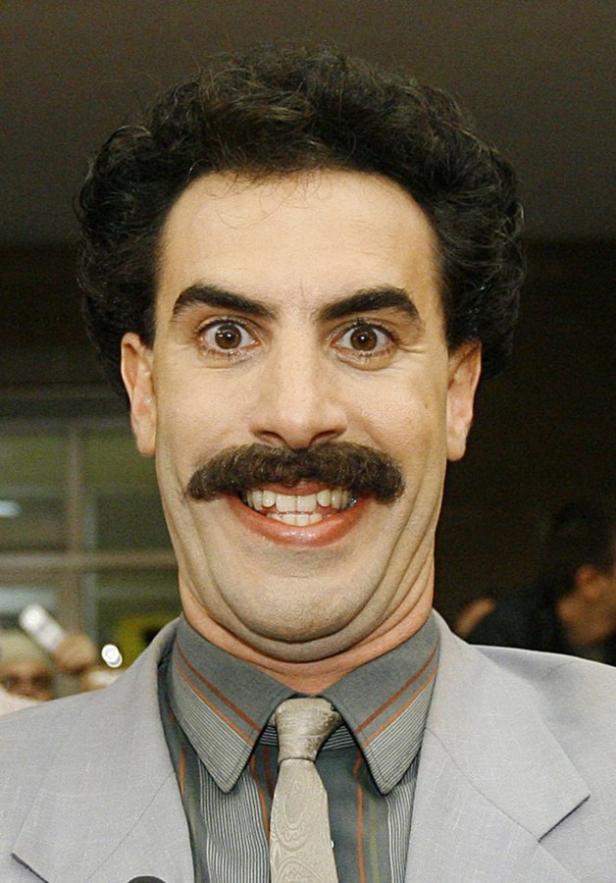 REUTERSActor Sacha Baron Cohen poses at the premiere of "Borat: Cultural Learnings of America for Make Benefit Glorious Nation of Kazakhstan" in Toronto in this September 7, 2006 file photo. The fictional Kazakh reporter who caused a diplomatic stir with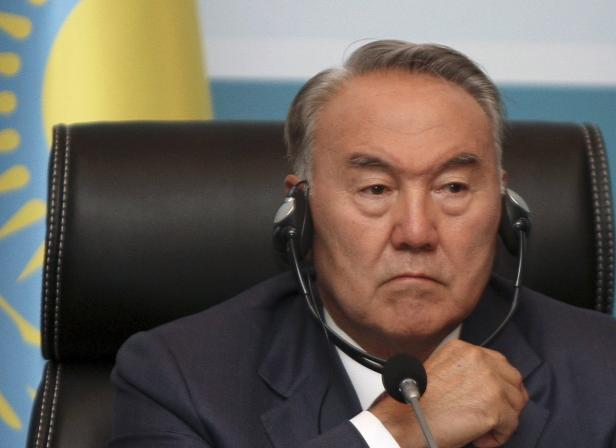 REUTERSKazakh President Nursultan Nazarbayev attends a news conference in Istanbul September 16, 2010. Nazarbayev, who has led the country since its independence from the Soviet Union, plans at least another decade at the helm of Central Asias largest eco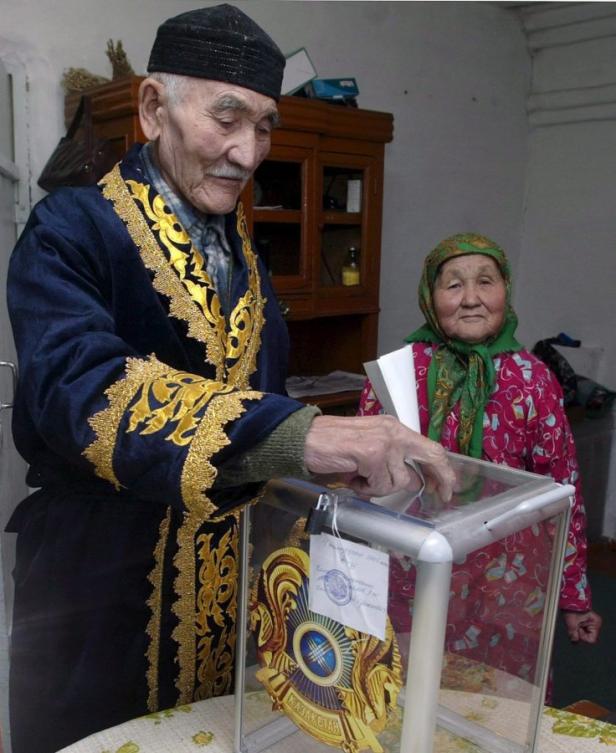 epa00589091 A man dressed in national costume casts his vote during the Kazakh presidential election in the village Kendela (30 km from Almaty), Sunday 04 December 2005. President Nursultan Nazarbayev, leading the presidential race, has good chances to be
APAustrian President Heinz Fischer welcomes his counterpart from Kazakhstan Nursultan Nazarbayev, from right, for talks at his office in Viennas Hofburg palace on Friday, Sept. 10, 2004. (AP Photo/Hans Punz)
APA worker strolls along Tengiz oil refinery utilities in Kazakhstan, Aug. 30, 2004. The giant Tengiz Oil Field under Kazakhstans renowned inhospitable steppes pumped $1.6 billion into the economy last year, but it also is at the center of a U.S. bribery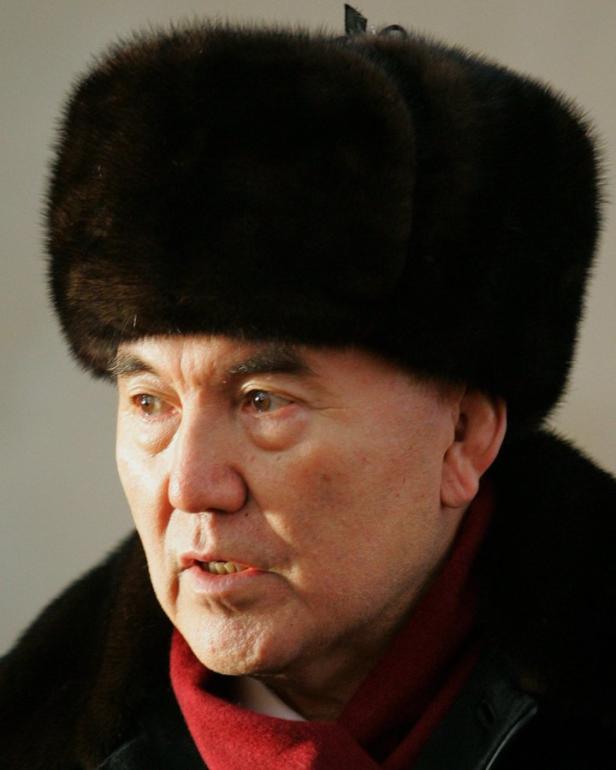 Kazakh Presedent Nursultan Nazarbayev speaks in Nur-Astana mosque in Astana January 10, 2006. Kazakh Muslims celebrate the sacred holiday Kurban-Ait today, which is called Eid al-Adha in Arabic, as temperature in Kazakhstans capital sharply fell to -36 Ce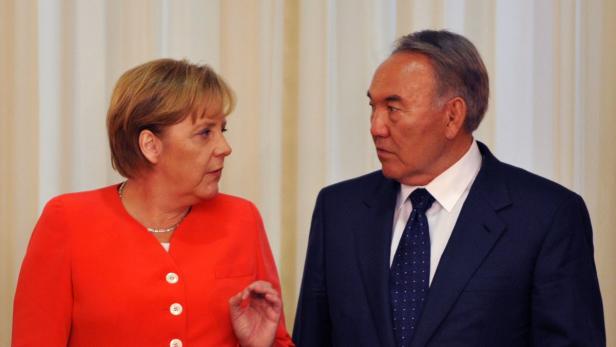 EPAepa02252342 Kazakh President Nursultan Nazarbayev (R) and German Chancellor Angela Merkel (L) in Astana, Kazakhstan, 18 July 2010. Mrs Merkel has been on a five-day visit to Russia, China and Kazakhstan. EPA/RAINER JENSEN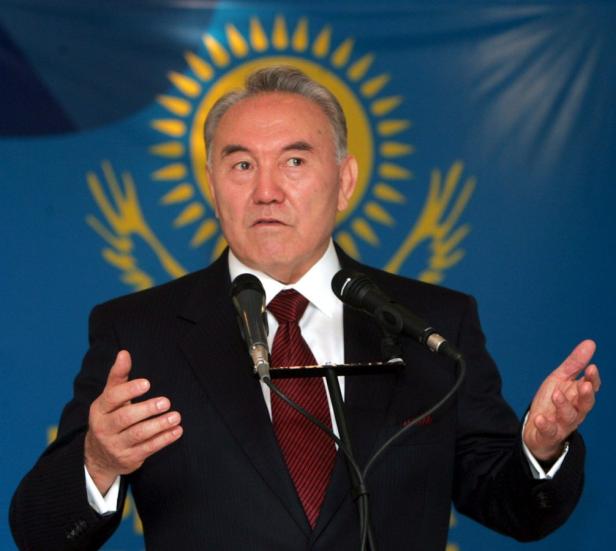 epa00589582 Incumbent Kazakh President Nursultan Nazarbayev, who scored a massive majority in presidential polls held Sunday, in front of the national flag as he addresses a news conference in Astana, 05 December 2005. Preliminary election results Monday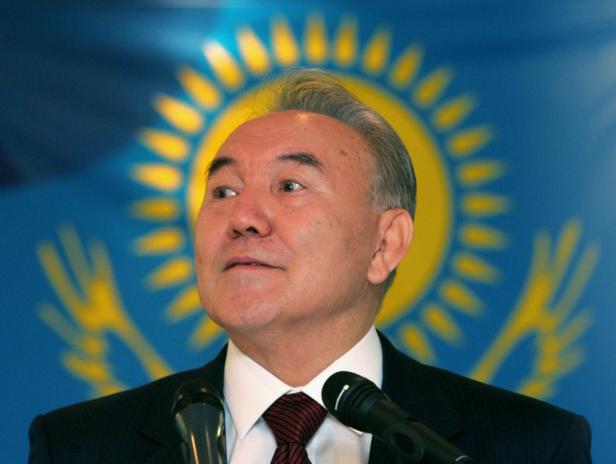 Kazakh President Nursulatn Nazarbayev attends a news conference after his landslide victory in Sundays presidential election was officially declared in Astana December 5, 2005. Kazakhstans President Nursultan Nazarbayev won re-election by a landslide on M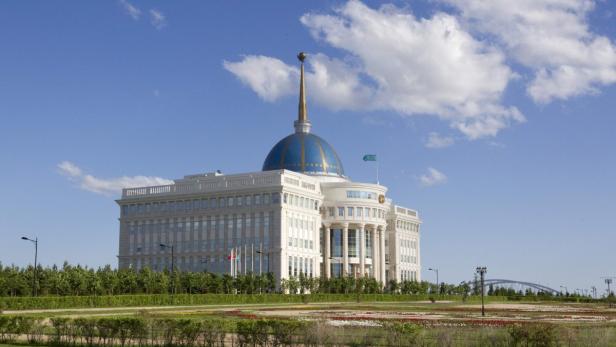 REUTERSA general view of Ak Orda, the official residence of Kazakhstans President, in Astana, June 13, 2011. REUTERS/Shamil Zhumatov (KAZAKHSTAN - Tags: CITYSCAPE POLITICS)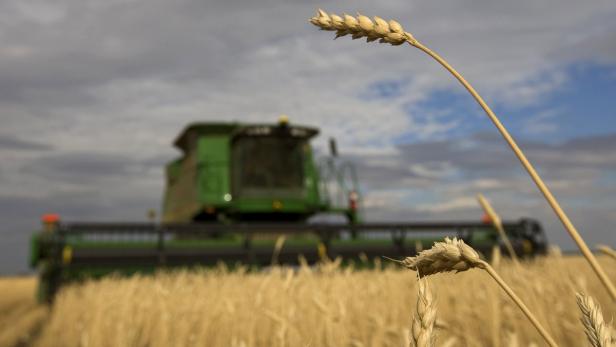 REUTERSA combine wheat harvester gathers wheat on a field of the Alibi-Ishim farm, near the village of Birlik, some 500 km (310 miles) north-west of Astana, August 26, 2010. Kazakhstan, the worlds seventh-largest wheat exporter, forecasts its 2010 grain h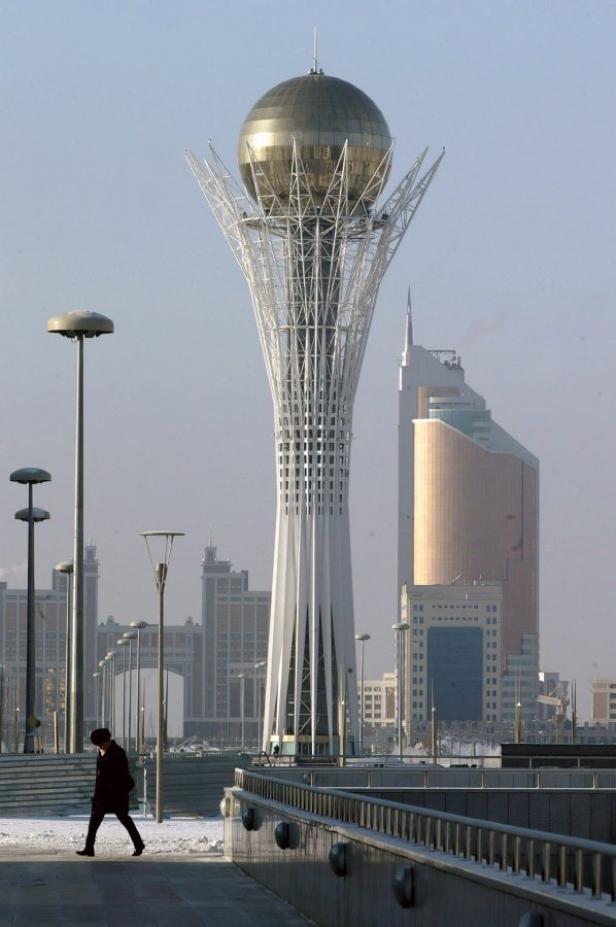 epa00586765 A lone Kazakh serviceman hurries up to his office in the administrative centre in the new Kazakh capital Astana, 01 December 2005. The presidential elections are scheduled on 04 December and the acting President Nursultan Nazarbayev having rat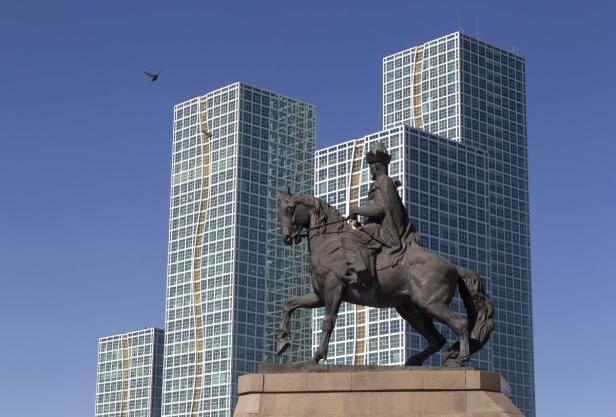 REUTERSThe monument to Kenesary Khan, a Kazakh historical figure, is seen in front of residential towers in Kazakhstans capital Astana September 8, 2012. REUTERS/Shamil Zhumatov (KAZAKHSTAN - Tags: CITYSPACE)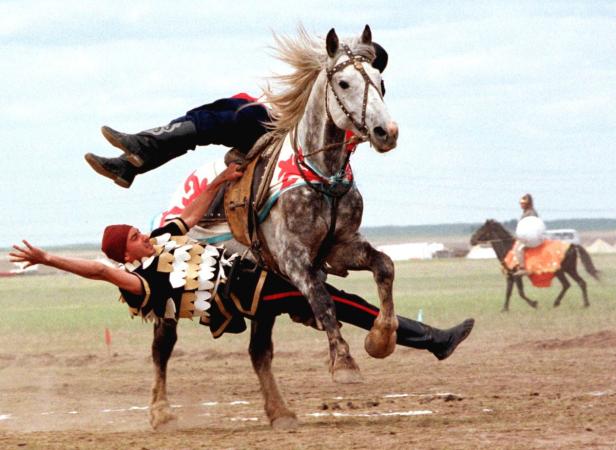 AST02:FEATURE:KAZAKHSTAN:ASTANA - FOR RELEASE WITH FEATURE BC-KAZAKHSTAN-CAPITAL - Kazakh riders perform during an official presentation ceremony in Astana. Astana, a town of some 300,000 people, became the capital of this vast Central Asian state in Dece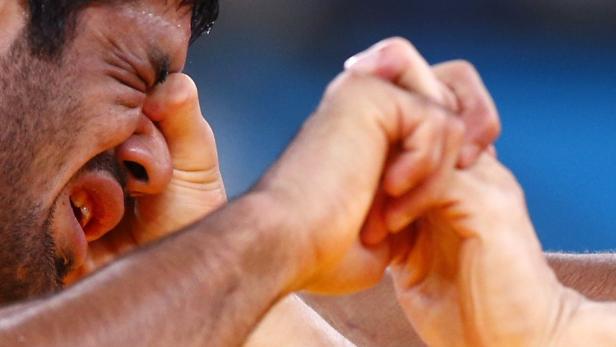 REUTERSIndias Sushil Kumar (L) fights with Kazakhstans Akzhurek Tanatarov on the Mens 66Kg Freestyle wrestling at the ExCel venue during the London 2012 Olympic Games August 12, 2012. REUTERS/Grigory Dukor (BRITAIN - Tags: OLYMPICS SPORT WRESTLI
APAsselina Kuchukova, Miss Kazakhstan 2010, poses in her national costume at the Mandalay Bay Resort and Casino in Las Vegas Monday, August 16, 2010. (AP Photo/Matt Petit/Miss Universe Organization LP, LLLP)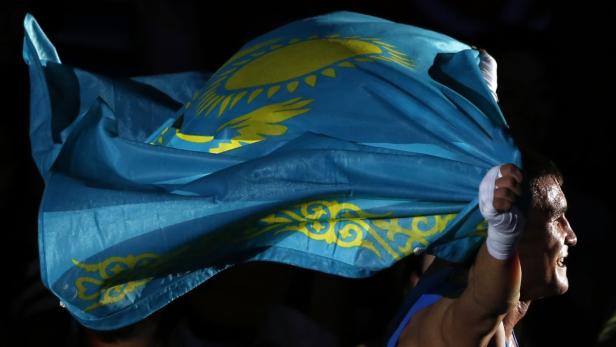 REUTERSKazakhstans Serik Sapiyev celebrates after capturing the gold medal in the Mens Welter (69kg) boxing competition at the London Olympics August 12, 2012. REUTERS/Damir Sagolj (BRITAIN - Tags: SPORT BOXING OLYMPICS)
Wir würden hier gerne eine Newsletter Anmeldung zeigen. Leider haben Sie uns hierfür keine Zustimmung gegeben. Wenn Sie diesen anzeigen wollen, stimmen sie bitte Piano Software Inc. zu.