Zum Durchklicken: Ali war nicht nur eine einzigartige Erscheinung im Ring, sondern auch als Entertainer.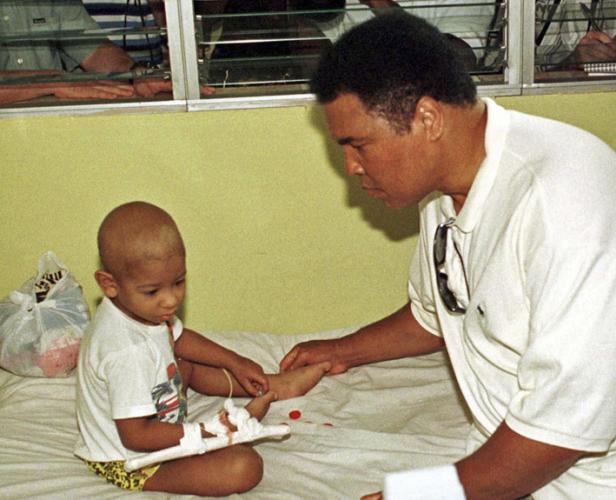 HAV06:CUBA-ALI:HAVANA,CUBA,9SEP98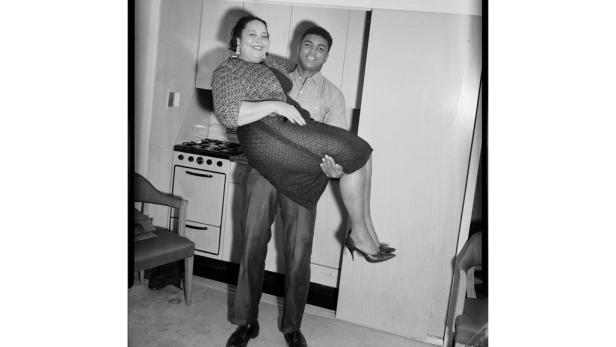 dapdIn this 1963 photo taken by Pittsburgh photographer Charles "Teenie" Harris, and provided by the Carnegie Museum of Art, boxer Muhammad Ali (Cassius Clay) lifts his mother, Odessa Grady Clay, in his room at the Carlton House Hotel in Pittsburgh. The "
EL PASO TIMESFormer heavyweight champion Muhammad Ali gives a kiss to one of the many children that were on hand at the Kiki Romero gymnasium as local missionary Suzie Valadez, who runs the Hands of Love and Hope Mission, looks on Sunday, May 7, 2000, in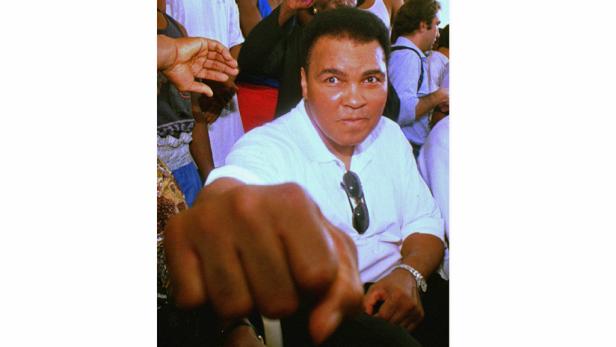 HAV03:CUBA-ALI:HAVANA,19JAN96- Three-time world heavyweight boxing champion Muhammad Ali throws a fake jab at the camera, January 19 in Havana. Ali is in Cuba to deliver $500,000 of donated medical supplies. rp/Photo by Rafael Perez REUTERS
AP** ARCHIV ** Rudi Carrell, hollaendischer Fernsehunterhalter, befragt den Schwergewichtsweltmeister Muhammad Ali, waerend einer Pause seines taeglichen Trainings, in Muenchen 19. Mai, 1976. Wie Radio Bremen am Montag, 10. Juli 2006, mitteilte, starb de
APAmerican boxing legend Muhammad Ali shows his skill during a sparring session with an Afghan boxer at a boxing club in Kabul, Monday, Nov. 18, 2002. Ali, who was named "U.N. Messenger of Peace" in 1998, arrived in Kabul Sunday on a three-day mission in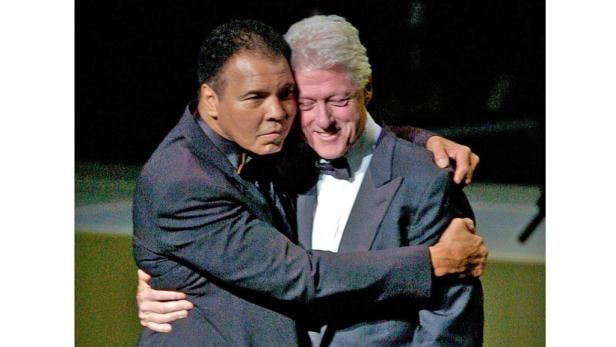 Former US president Bill Clinton (R) hugs boxing great Muhammad Ali during the grand opening gala celebration of the Muhammad Ali Center at the Kentucky Center for the Arts in Louisville, Kentucky November 19, 2005. REUTERS/John Sommers II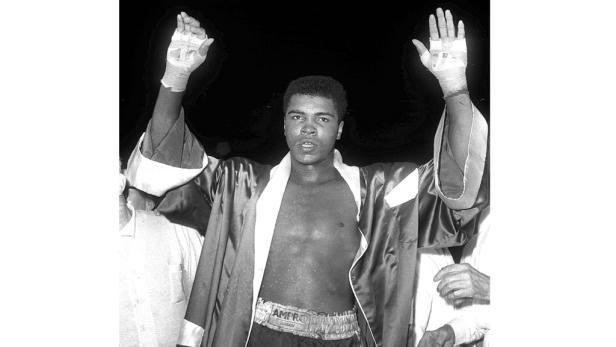 ALI01 - 19631118 - LONDON, UNITED KINGDOM : (FILES) A b/w file photo dated 18 November 1963 of US boxer Muhammad Ali, born Cassius Clay, after his victory over British heavyweight champion Henry Cooper at Wembley, London. Ali, who was the first man to win
APLegendary boxing trainer Angelo Dundee, right, feeds one of his legendary boxers, Muhammad Ali, some of his birthday cake in a Miami Beach, Fla., boxing gym Wednesday, Aug. 28, 2002. Miami Beach honored Dundee during a ceremony two days before his 81 bi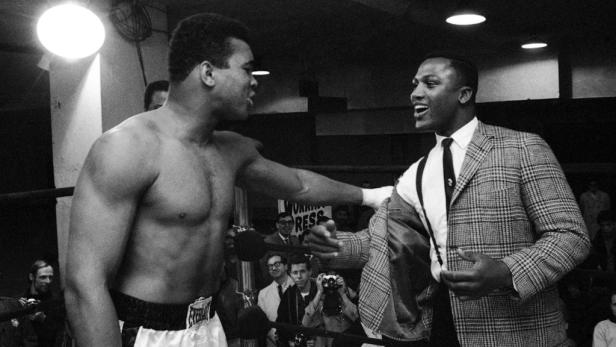 dapdFILE - In this March 15, 1967, file photo, Joe Frazier, right, a heavyweight boxer and a contender for champion Muhammad Alis (Cassius Clay) title, is kidded by Clay at the champions training quarters at Madison Square Garden in New York. Frazier, th
FILMMAGIC.COMFormer heavyweight boxing champion Muhammad Ali and his wife, Lonnie, walk the red carpet in Phoenix, Ariz., Saturday, March 27, 2004, before the Celebrity Fight Night X fundraising dinner supporting the Muhammad Ali Reasearch Center, (AP Pho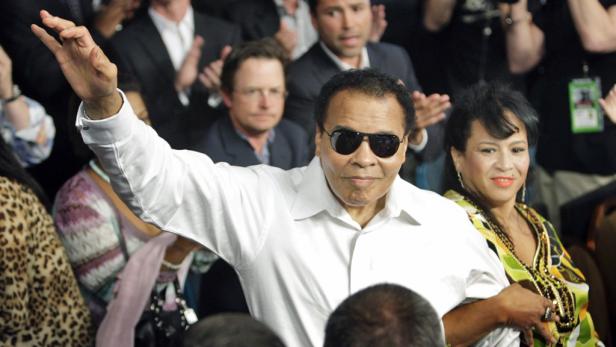 REUTERSBoxing legend Muhammad Ali stands with his wife Yolanda as he is introduced before the welterweight fight between Floyd Mayweather Jr. and Shane Mosley at the MGM Grand Garden Arena in Las Vegas, Nevada on May 1, 2010. REUTERS/Steve Marcus (UNITE
APFormer U.S, box champion Muhammad Ali looks to a poster made by a young amateur artist as he attends a promotion event for products made in eastern Germany in the sport arena in Riesa, eastern Germany, Saturday, June 29, 2002. Ali is on a 4-day-visit to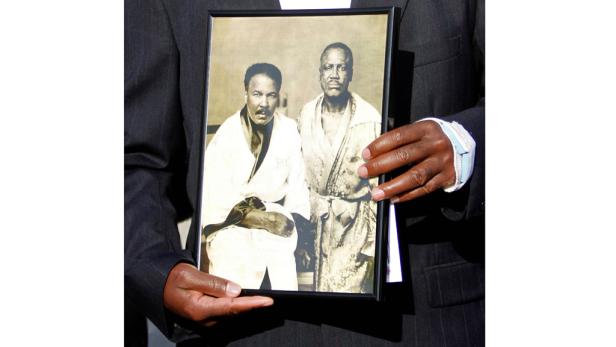 REUTERSA mourner holds a photograph of boxing greats Muhammad Ali (L) and Joe Frazier as he leaves Fraziers funeral at the Enon Tabernacle Baptist church in Philadelphia, Pennsylvania, November 14, 2011. REUTERS/Tim Shaffer (UNITED STATES - Tags: SPORT B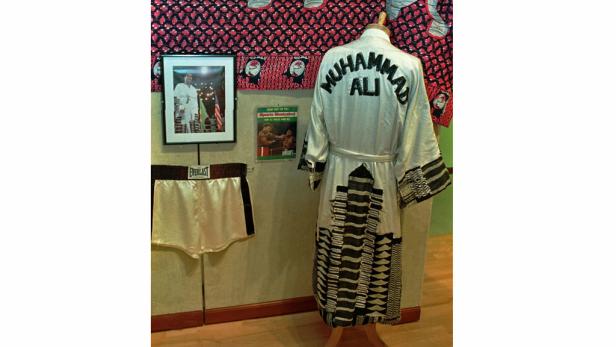 LOA03:ALI MEMORABILIA:BEVERLY HILLS,CALIFORNIA,9OCT97 - A robe worn by boxer Muhammad when he walked into the ring for his October 30, 1974 fight against George Foreman in Kinshasa, Zaire and a pair of boxing trunks worn by Ali during the fight are shown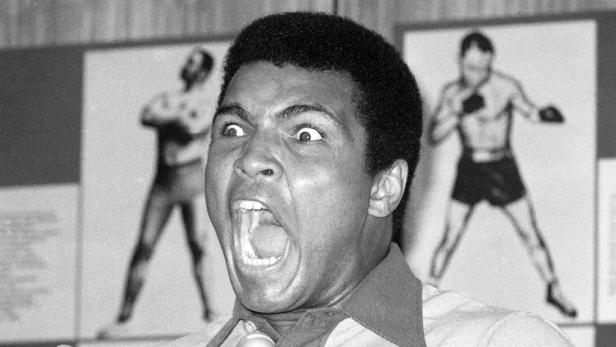 dapdFILE - In this Aug. 29, 1974, file photo, boxer Muhammad Ali makes a face during a press luncheon in New York, to promote the sale of tickets to Madison Square Garden where the battle against George Foreman in Zaire will be shown in October on closed
Wir würden hier gerne eine Newsletter Anmeldung zeigen. Leider haben Sie uns hierfür keine Zustimmung gegeben. Wenn Sie diesen anzeigen wollen, stimmen sie bitte Piano Software Inc. zu.