Gruppe vergewaltigt Polizistin
Die Frau war auf dem Weg zur Beerdigung ihrer Schwester - die Angreifer gingen mit Äxten auf sie los.
Auf dem Weg zur Beerdigung ihrer Schwester ist eine junge Polizistin im Osten Indiens von mehreren Männern vergewaltigt worden. Wie lokale Medien am Sonntag berichteten, hielten die mit Äxten bewaffneten Räuber die Familie des Opfers auf der Bundesstraße 75 in Jharkhand an. Sie raubten demnach bei der Tat am Donnerstagabend 10.000 Rupien (116 Euro) und zerrten dann die junge Frau aus dem Auto. Einige Täter vergingen sich an der Polizistin, während andere ihre Familie bedrohten.
In einem der beiden Autos soll sich auch die Leiche der Schwester des Vergewaltigungsopfers befunden haben. Sie sei vor wenigen Tagen erschossen worden und sollte in Ranchi beerdigt werden, berichtete die Zeitung "The Hindu". Die Polizistin hatte demnach erst im April vergangenen Jahres die Arbeit bei den Sicherheitskräften begonnen.
Gewaltserie
In this Sunday, Feb. 24, 2013 photo, broken nail p…
In this Sunday, Feb. 24, 2013 photo, rape victim "…
ADVANCE FOR USE SUNDAY, APRIL 14, 2013 AND THEREAF…
Rape victim, the "Suryanelli girl," named for the …
In this Sunday, Feb. 24, 2013 photo, belongings of…
The "Suryanelli girl," a rape victim named for the…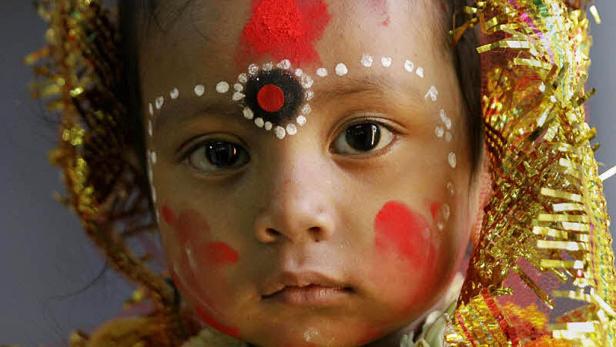 dapdA young Hindu girl dressed as "Kumari", or living goddess, pauses at a ceremony during the Hindu festival of Ram Navami in Kolkata, India, Sunday, April 1, 2012. Ram Navami is a celebration of the birthday of the Hindu God Lord Rama. (Foto:Bikas Das/A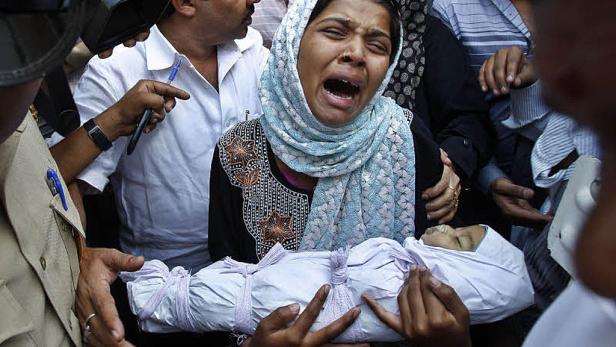 dapdReshma Bano wails as she holds the body of her three-month-old daughter Neha Afreen outside a hospital morgue in Bangalore, India, Wednesday, April 11, 2012. Afreen was admitted in the hospital on April 8 after allegedly being battered by her father f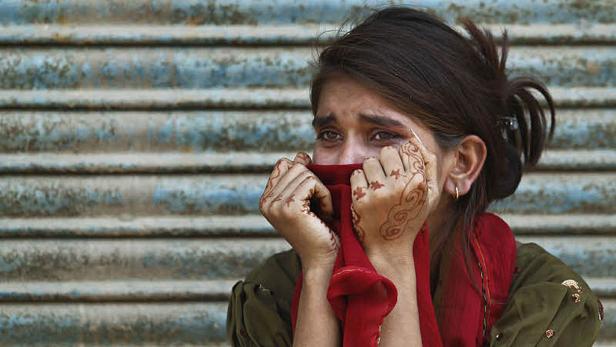 REUTERSA girl weeps as she sits outside her house after police arrested her male family members, following Saturdays clash between farmers and police, at Bhatta Parsaul village in Gautam Buddha Nagar district of the northern Indian state of Uttar Pradesh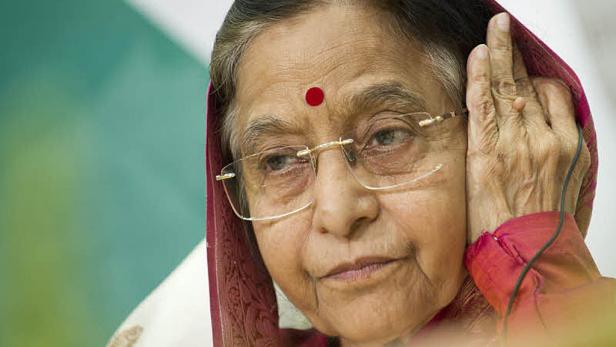 EPAepa02948933 Indian president Pratibha Devisingh Patil during the press conference, at the official state visit in Bern, Switzerland, 03 October 2011. Reports state that President Patil arrived in Switzerland on 30 September 2011 for a five day state vi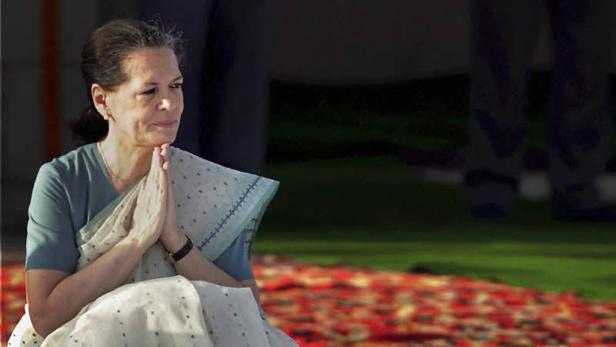 dapdCongress party President Sonia Gandhi gestures as she pays tributes to Mahatma Gandhi on his birth anniversary at his memorial in New Delhi, India, Sunday, Oct. 2, 2011. This was Sonia Gandhis first public appearance since her return from the U.S. whe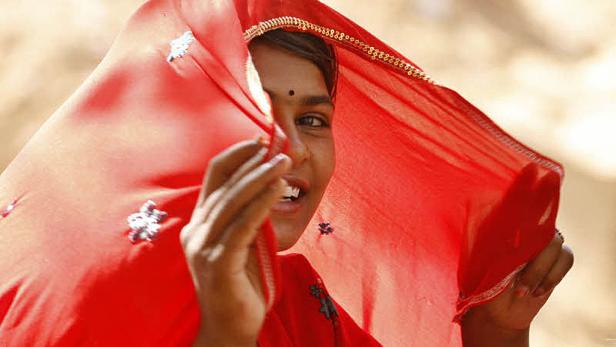 dapdIn this photo taken Friday, June 10, 2011, a girl child laborer covers her face with a veil as she takes a rest at a construction site on the outskirts of Pushkar, in the northern Indian state of Rajasthan. According to the United Nations, 150 million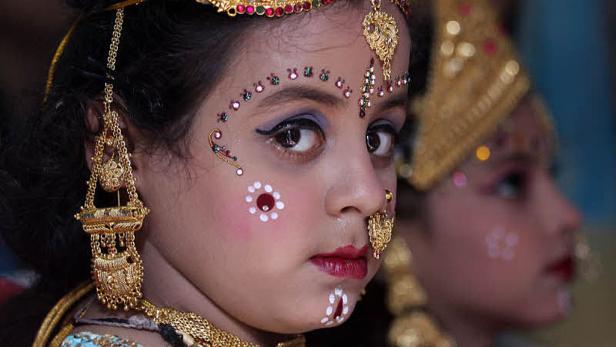 EPAepa02310888 An Indian girl dressed as a Hindu Goddess waits in a room before taking part in a religious procession on the eve of Janamashtmi or the birth anniversary of Lord Krishna in Amritsar, India, 01 September 2010. Lord Krishna, the eighth of the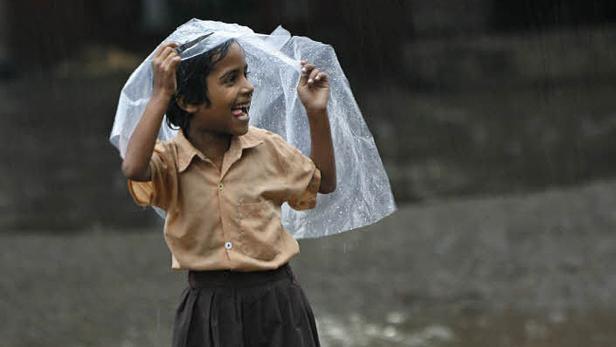 REUTERSA school girl shields herself from monsoon rain on a street in New Delhi September 10, 2009. Indias monsoon rains were 21 percent above average in the week to Sept. 9, the India Meteorological Department said on Thursday. REUTERS/Adnan Abidi (INDI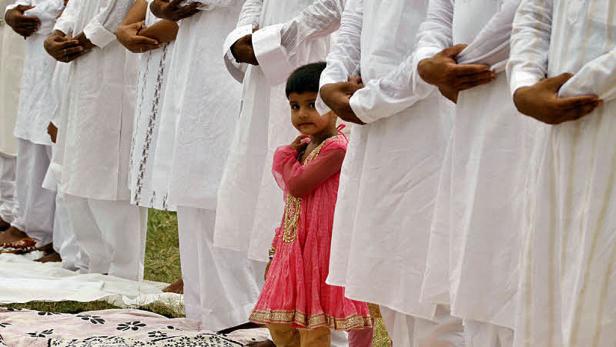 dapdA Muslim girl looks on as elders offer prayers during Eid al-Fitr in Allahabad, India, Saturday, Sept. 11, 2010. Eid al-Fitr festival marks the end of the Muslim holy fasting month of Ramadan. (Foto:Rajesh Kumar Singh/AP/dapd)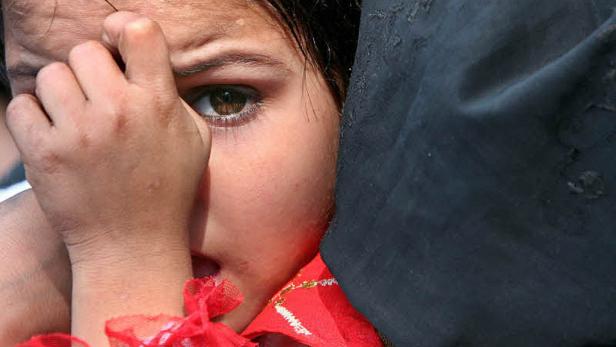 REUTERSA disabled girl sits next to her mother during a protest organised by the All India Parents Association in New Delhi February 13, 2010. Hundreds of parents with their children on Saturday participated in a protest demanding all government and priva
APA woman looks on during a rally against female foeticide, in New Delhi, India, Sunday, Dec. 10, 2006. The rally was organized to sensitize Indian society to the problem of sex selective abortion and giving equal right to a girl child to enter the world.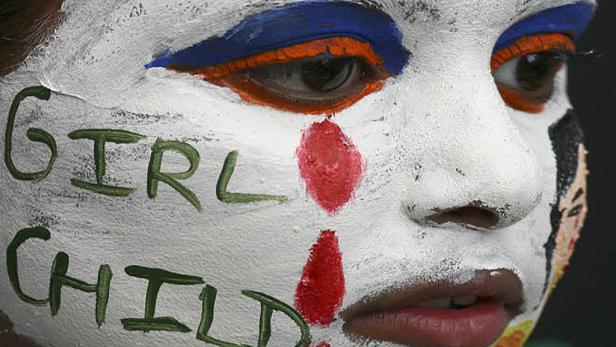 REUTERSA girl with her face painted with an awareness message on female foeticide participates in a face-painting competition in the northern Indian city of Chandigarh August 1, 2009. REUTERS/Ajay Verma (INDIA SOCIETY IMAGES OF THE DAY)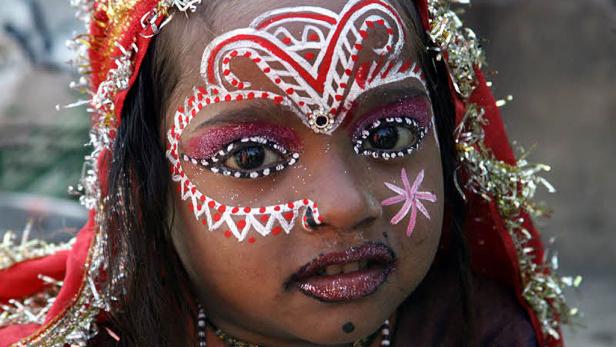 EPAepa03166255 An Indian girl dressed as Goddess Durga looks for alms at river Tawi on the last day of Navratra, a Hindu festival in Jammu, the winter capital of Kashmir, India, 31 March 2012. Navratri festival is dedicated to the Hindu Goddess Durga and
APAn Indian girl reacts as others throw color powder at her as part of celebrating "Holi" in the outskirts of Bhubaneswar, India, Saturday, Feb .27, 2010. The festival also marks the coming of spring. (AP Photo/Biswaranjan Rout)
Wir würden hier gerne eine Newsletter Anmeldung zeigen. Leider haben Sie uns hierfür keine Zustimmung gegeben. Wenn Sie diesen anzeigen wollen, stimmen sie bitte Piano Software Inc. zu.
Jederzeit und überall top-informiert
Uneingeschränkten Zugang zu allen digitalen Inhalten von KURIER sichern: Plus Inhalte, ePaper, Online-Magazine und mehr. Jetzt KURIER Digital-Abo testen.